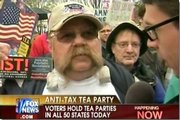 Demonstrations against the Obama Administration's economic policies were held across the country this week, coinciding with the deadline for filing income taxes. The protesters listed among their grievances a ballooning deficit and tax increases. Organized by conservative activist groups and promoted heavily by Fox News, the protests were known as "Taxed Enough Already," or "TEA Parties." Participants, calling themselves "tea baggers," were encouraged to bring tea bags to emulate the Boston Tea Party and its protest against taxation without representation.
*...Organizers also encouraged the tea baggers to "polish off and blow the rusty trombone of freedom."
The outrage against Obama's tax policies also spawned parallel protests known as "Quit Unfair Exploitation of Economic Freedoms."
When it was pointed out to demonstrators that the deficit began under the Bush Administration and that Obama had passed a tax reduction for 95% of Americans, many responded with charges that Obama is a socialist. When pressed to define what they thought socialism meant, most responded with some variation of "butt sex."
*...based on actual news