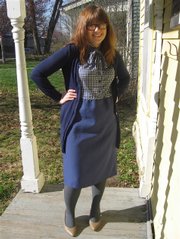 Name: Kayleigh Nichols
Age: 22
Sign: Aries
Hometown: Independence
Time in Lawrence: 3 1/2 years
Occupation: Full-time student at KU, Anschutz librarian, Audio Reader volunteer.
What were you doing when scouted? Browsing through books at the Dusty Bookshelf.
Favorite places? I really like hanging out by the river. I also like the Dusty Bookshelf, the Goodwill, Wild Man Vintage, and Au Marche.
How would you describe your style? I dress like a silly high-school girl from the '60s.
Where do you get your hair cut? Nowhere, and my mom cuts my bangs.
Favorite trends? I like cardigans, high-waisted skirts, low heels, pendant necklaces, and aviator sunglasses on guys.
Least favorite trends? Sweatpants worn outside of the house. I also really hate cork wedges and the whole "Real Housewives of Orange County" style.
Tattoos/piercings? I have a nose piercing, which was done at Big Daddy Cadillacs.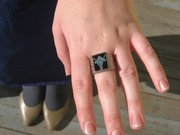 Favorite coffee shop? I don't drink a lot of coffee, but I do like going to House of Cha. I recommend the white teas.
Favorite bar? I like Harbour Lights, because everyone can fit in there and not feel out of place.
What would you like to see more of in Lawrence? I'd like to see more hammocks, year-round cardigans, and roller skating.
What would you like to see less of in Lawrence? People spitting on the sidewalks and aggressive panhandling.
Who are your fashion influences? Nancy Sinatra, Yoko Ono, and any of the women on "Mad Men."
What's in your purse? An antique alligator skin wallet, a Japanese lighter with whales on it, cheap Aviator sunglasses, and matches from The Pig.
Tell us a secret? I wear men's antiperspirant because I like the smell of pine trees.
PRICE OF CLOTHING:
Shoes: ATC, purchased today for $7.50.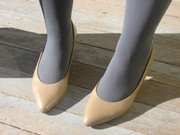 Tights: Purchased at Target, 1 year ago for $9.99.
Dress: Goodwill, purchased 3 months ago for $6.
Cardigan: Purchased at the store Honey in Japan, 2 years ago for $30.
Glasses: Purchased online at Zenni Optical, about a month ago.
Ring: It's an old Freemason ring that was a gift from my dad.
More like this story on Lawrence.com