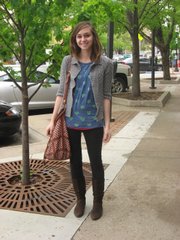 Name: Melissa Sowards
Age: 19
Sign: Leo
Hometown: Topeka
Time in Lawrence: About 9 months
Occupation: Student at KU
What were you doing when scouted? I was on my way to eat at Zen Zero with my friend Graham.
Favorite places? Love Garden, Wild Man Vintage, ATC, The Mad Greek, and Local Burger.
How would you describe your style? My style is simple and classic, but with a little bit of edginess at the same time.
Where do you get your hair cut? I cut my own hair.
Favorite trends? I really like simple things and right now I really love wearing cardigans. I'm also really into scarves, hats, and wearing leopard prints.
Least favorite trends? Leggings worn as pants, and those really bright, graphic-print hoodies that people wear.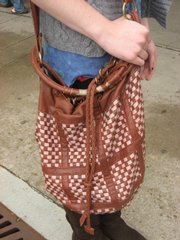 Tattoos/piercings? I got my septum pierced at Big Daddy Cadillacs and my nose pierced at Electric Tattoo in Topeka.
Favorite hangouts? On the weekends, I'm usually hanging out with my friends at their houses. We definitely try to go to First Fridays in Kansas City as well.
What would you like to see more of in Lawrence? I'd like to see an art store or a specialty paper store. To get some of my supplies for class, I have to drive to Kansas City. I'd also like to see more support for the arts in Lawrence.
What would you like to see less of in Lawrence? Construction and traffic.
Who are your fashion influences? My Grandparents and the style of the 1960s.
Tell us a secret: When I walk around town listening to music on my tape player, I'm always listening to the "Sound of Music" soundtrack. 
PRICE OF CLOTHING: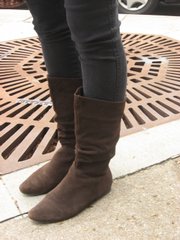 Boots: Purchased at Gordman's, 2 years ago for $30.
Jeans: Trip, purchased at Hot Topic, 2 years ago for $40.
Shirt: Purchased at Urban Outfitters, a few years ago for $20.
Sweater: Found at Major Thrift in Topeka, 3 months ago for $7.
Purse: On sale at Urban Outfitters, around 2 years ago for $20.