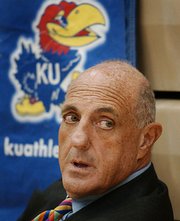 It was revealed this week that Lew Perkins, KU's athletic director, could receive an extra $750,000 in his retention bonus, raising the total amount from $1.3 million to $2.05 million. The payment was originally a reward to Perkins for declining efforts made by another university in 2006 to recruit him as its athletic director.
*...Perkins defended the huge payout, saying he needed the money to complete his body modification from man to bull dog. "Jowl implants ain't cheap," snarled the half-man, half-canine Athletic Director.
For his tactless handling of a huge and unseemly bonus during the worst economic crisis since the Great Depression, Perkins has been offered an executive position at AIG. KU immediately redirected federal stimulus money, meant for tuition grants to the poor, to pay him an even larger retention bonus.
While the exorbitant payout might seem tasteless and obscene, it's nowhere near as tasteless and obscene as this:
*...based on actual news
More like this story on Lawrence.com