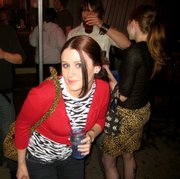 Michelle Marino, waitress, painter, enjoys sleeping and playing with her ferrets
How do you save money?
"I clip coupons from the Sunday paper, and when I'm shopping at Dillons I take the coupons from those little flashing dispensers. Also, I have a moped and ride it everywhere. I can get 80 miles on a tank of gas. So far as budgeting, the day before my bills are due, I scrounge around for change. I don't really budget at all. I shop at Plato's Closet for all my clothes because it's really, really, really cheap."
How do you splurge?
"Clothes and booze and food. For clothes I'll go to Kohl's, for booze I'll get Bombay Sapphire gin, and for food I'll get the mussels at Genovese."
More like this story on Lawrence.com