Wednesday, April 22, 2009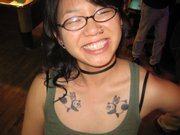 Kara Holcombe, comic book conventioneer, ultimate bitch killer, knitter
lawrence.com: What, exactly, is a Comic-Con? Some sort of virgin festival or Naruto suicide cult?
"I enjoy comic books and toys, and this is a gathering of like minded people. I'm saving up to travel to the Chicago Comic-Con this summer. It's a chance for me to be around my peers, who are just as nerdy as I am, but less attractive than me and with worse hygiene. I feel better about myself when I'm there. It's an ego boost. There's a lot of bad smelling people at Comic-Con."
Being the most attractive person at a comic book convention, how do you parry the romantic advances of a guy dressed up as Link from The Legend of Zelda?
"For the most part, I never even noticed their advances, just their foul odor. I felt like I needed a holster with a can of Axe body spray. Michael Madsen from 'Reservoir Dogs' hit on me at a convention once, and that was very awkward. I had to gently let him down."
How many different levels of nerd are there at Comic-Con?
"Whatever kind of dork-ness you're into, it'll be there. There are booths devoted to comic books, booths devoted to video games, booths devoted to action figures—there was even a booth devoted to swords. They had a gun-sword. That shit was awesome. I couldn't really take that with me on the plane, though. About the only thing missing from the last convention I went to was a Star Wars wedding. That's a whole different level of nerd."
Who do you plan to dress up as at the next convention?
"Either Dr. Girlfriend from 'The Venture Bros.' or Miho from 'Sin City.' I'm Asian, so Miho would be pretty easy."
What are you looking forward to most at the next Comic-Con?
"Meeting the comic book artists. A majority of them are super nice and down to earth. They're gracious, not like the Lou Ferigno and WWE bitches that show up and charge $20 for an autograph. I don't care that Ferigno was the Incredible Hulk, he's a douchebag."