Photo Gallery
BMX in Lawrence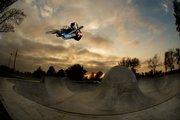 On May 2, the Year of our Lord 2009, a mildly historic event will take place. BMX freestylers, a scourge for many a year to the KU campus along with their skateboarding and rollerblading brethren, will grind away without hassle from the fuzz.

This is because something called the Spring Arts & Culture Festival is happening that day outside the Union and the Spencer Museum of Art. The event's press jockeys have indicated that "performance groups include the KU African Drum and Dance Ensemble, the Peruvian Association, artist Dave Loewenstein from The Percolator, and BMX bikers." 

Nothing says spring, as the saying goes, like lilacs, love poems, African drummers, Peruvians, Lawrence's mural king and freestyle bike riders. This was plan B, of course, after the original Spring Arts & Culture Festival — featuring The Bearded Lady, the Alabama Sacred Harp Singers, a whale in a tank and former City Commissioner Dennis "Boog" Highberger — fell through.

Anyway, we're focusing on the BMX riders, since Peruvians, et al., are really a dime a dozen. We caught up with some local dudes from Lawrence's healthy BMX scene (and dudes only; show yourselves, local female BMX riders!), including a fabled veteran of the sport, Dennis McCoy…
Past Event
Saturday, May 2, 2009, noon to 4 p.m.
Spencer Museum of Art, 1301 Miss., KU campus, Lawrence
All ages / Free
McCoy, 42, is tireless promoter of the sport. A professional for 24 years, he has competed in every X Games since the inception of the event in 1995, has a trove of medals from national and international competitions and organizes the freestyle BMX portion of the Dew Action Sports Tour, one of the world's premier extreme sport events. He grew up and lives in Kansas City.
lawrence.com: How did you manage to make a living riding your bike?

McCoy: I was going to UMKC. I was a real serious student and planning to graduate and become an engineer, but I started making a good living as a professional bike rider. I put a semester on hold, and then was ranked the top guy, so I put another semester on hold, and now it's like 25 years later.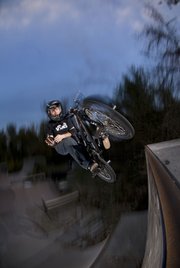 How has the local BMX scene changed from when you were doing it in the '80s?

It's as strong as ever in terms of the quantity of riders, for sure. I guess if anything's a little different, we're a little more spread out now. That's one thing that's not quite as fun. When it was just one or two backyards where we all rode or we all met up to go ride street, you would have big groups of riders at one time. Now, when there are skateparks spread out throughout the metro area, people have a tendency to just hit up the place that's nearby instead of getting together for the big rides like we used to. That can be good and bad. You can show up somewhere and have a fun session with just a handful of people and not wait all day for your turn.
What drew you to the sport and why do you keep at it after so many years?

It was just, I guess, that sense of freedom. When you realized that you could learn things that hadn't been done before, there was that sense of exploring something new and helping create a sport. But the basic thing is it's just a lot of fun. It's a complete rush to ride a bike. I've never had a reason to not do it.
Highlight reel from BMX competition this month in Joplin, Mo.

Ben Hartman is the main man behind the upcoming BMX demo at KU. "My mom would let me ride farther on my bike than she would let me walk," he says. "A bike lends you an extended boundary. I associated it with getting away from the house and parents and all that stuff."
The natural progression for a lot of kids is to get obsessed with bikes and then move on to cars.

A lot of kids get a girlfriend and a car and then they just forget about it. It's kind of funny when you look back at all the dramatic stuff that went on in our lives. Where were you when all this happened? I was on the street riding bikes, avoiding all that drama. I would have been a piece of sh*t and probably gotten in a lot of trouble had I not put my energy into riding. A lot of kids get into stealing stuff and things like that. You can't help it when you're in middle school. Through all that, I just kept riding.
Dennis McCoy said that before these skateparks came into existence people would congregate more in big groups.

A lot people don't want to address the issue because it makes them feel like riding bikes or skateboarding or whatever extreme sport isn't as underground and it's respectable. But people don't really accept the fact that extreme sports are the most rapidly growing sports in the country. 

Kids that don't skate or ride hang out at the skatepark. It's a social event. Before, you were kind a loser, kind of on the fringe, if you were into extreme sports. It's more of an individual thing. There's no team, no one watching you, no one keeping score, no stats. Now, so many kids are into it, there are stats, people are keeping score, people are being fashionable with it. Kids hang out at the skatepark just to be seen, which is quite a bit different than six or seven years ago.
What's the best part of BMX freestyle? 
It's the moments where you're sitting on a curb at 2 in the morning eating Combos at a gas station with your friends who've been riding all day. That, to me, is something that will always be nostalgic and associated with riding.
Trails are the best. Whatever you ride is what you built. It's all up to you. You get what you give, where riding street, you've got to find it, you've got to dodge cops, but you didn't build it. With dirt jumps, it's all up to you—how fast you want them to be, how high, how far apart, how you want them to feel.
Charles Chappell, a machinist and BMX rider, recently started a BMX bike components business, Bluesix, out of Lawrence.
Ever since I started riding, I'd always draw designs, modify my bike parts and dream of starting a bike company someday. I just decided to do it. It's what I always wanted to do. Straight out of high school I went to school to be a machinist in Salina.
What school?

Salina Area Technical School. I designed a lot of bike parts that were ahead of their time. They came out years later. I'd always see bike parts that I designed a long time ago. It was something I thought I could do, so I've been working really hard on it lately.
When did you decide to make a serious go at it?

I bought a little lathe (a machine tool that spins objects) so I could make my own parts and have fun with it. I started drawing some stuff up and doing some research, and I found out that I could really do it myself.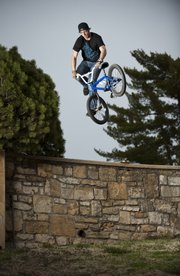 What components do you make?

The first products I came out with were a bunch of custom bolts with special features for each application of the bolt. A lot of bike parts come with standard bolts and you have to use adapters and they all come in different sizes depending on the manufacturer. Some are metric, a bunch of odd sizes. 

My custom bolts have different features, like built-in adapters. Every bolt that I make comes with a custom broach that uses a 6-millimeter Allen wrench, so you only need one tool for your whole bike. I could take my whole bike apart with just my Allen wrench in my wallet.
Hunter Wright, John Lancaster and Grant Meisenheimer founded Free State BMX Stunt Shows last year, christening their endeavor with a halftime show for the now-defunct Kansas City Brigade, the arena football team. They also performed at an annual Staples meeting in Phoenix and were paid the money to build a badass ramp they use for their shows.
Wright, 23, has a couple of sponsorship deals.
Is it harder these days to make much money from sponsorships?

I don't exactly know how it was back in '80s or even the '90s as far as getting sponsored. It seems like presently there's a ton. The sport's grown a lot and not only that but the talent itself has grown a lot. The stuff that kids are doing these days, if they were doing that in the '90s it would have been absolutely unheard of, or even just five or six years ago.

The level of riding has really been bumped up considerably higher than it used to be. People are looking to sponsor the riders that are standing out, that are going to catch people's eye and not do the same stuff that everybody else is doing. It's a pretty high bar to get up to. That's how it seems to me, anyway. 

There's a contest in Joplin called the JoMo Pro (at Autumn Ramp Park). It's been going on for the last four years or so. It's a huge contest. They give away a motorcycle for best trick. I think purse this year was like $25,000. Top riders all around the world come to it. Comparing the first year to the beginning of April when they had it this year, the level of riding is just so much higher that it's almost not even comparable. 

Myself, I've definitely gotten considerably better each year that I've gone to it, but the level of riding is getting so high that I'm not winning or placing any higher the next time. It's excellent for the sport.
Highlight reel from the JoMo Pro

Lancaster, 28, of Free State BMX. "I started riding because my cousin was the coolest guy ever and he rode a BMX bike, so I wanted to," he says.
What kind of stuff did you do as a kid in Dodge City?

Just ride street. There were a lot of ditches and things to jump out of. There was a race track there and I raced. That's how a lot of people get started into riding BMX.
BMX doesn't get the popular media attention it once did. What's your take on that?

Dennis (McCoy) runs the BMX side of the Dew Tour. I work for him from time to time. This year, versus other years, it's an obvious sign that things are waning, because there's less this year. They're having more problems getting corporate sponsors and things like that.
Could it be because of the economy?

Maybe. Dennis, during the crash of BMX, when it officially "died," he had a sponsorship deal that was very lucrative, and then his agent told him to wait and try to get more money, and right then the news came that sales of BMX was completely dropping and no one was sponsoring BMX riders anymore. That was in the mid-'80s.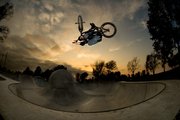 Meisenheimer, 23, of Free State BMX.
How'd you get started?

My dad works close to the skatepark in Lawrence and I was always trying to ride it. I started riding there when I was 14 or so and met a lot of the local guys that were up there. It just proceeded from then on. I've grown up with a lot of the guys in Lawrence, and I'm part of the older crew now. It's kind of funny.
What's your take on the current state of BMX?

It's a progressive thing these days. Kids are looking to one-up all the pros and whatnot, which is awesome. The only backfall of that is a lot of the kids want to turn pro and get into that mindset of that's all they want to do. I'm not that way. I ride for fun, and if stuff happens and I get sponsored, that's great.
More like this story on Lawrence.com