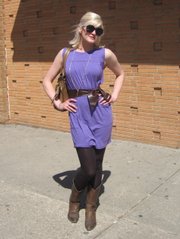 Name: Rockelle Meagher
Age: 19
Sign: Leo
Hometown: Leavenworth
Time in Lawrence: On and off for 2 years.
Occupation: Retail
What were you doing when scouted? I just got off work and was going to go eat at India Palace.
Favorite places? Wild Territory, Envy, Global Cafe, Mad Greek, and India Palace.
How would you describe your style? Always changing. I try and go for different looks every day.
Where do you get your hair cut? I go to Lady Luck Salon in Westport.
Favorite trends? I really like the urban look. I love wearing boots and vintage accessories. For guys, I love when they wear vests and hats.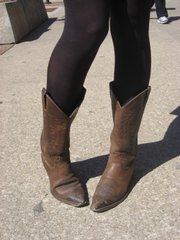 Least favorite trends? Dude bros kind of style. 
Favorite coffee shop? I always go to Henry's because the people that work there are really friendly, and it has really good vibes.
Favorite hangouts? I don't really do much on the weekends except hang out with my boyfriend and my friends.
What would you like to see more of in Lawrence? I'd like to see more art galleries, but I really think Lawrence has a lot of variety for being a small size. I definitely consider it the jewel of the Midwest.
What would you like to see less of in Lawrence? Construction, but other than that I don't have too many complaints.
Who are your fashion influences? I'm influenced by a lot of my friends and just normal people that I see on the street. I like learning about street style from all around the world.
What's in your purse? A cardigan, an ATC gift card, Germex, and several lighters.
Tell us a secret: I'm moving to Hawaii in one week.
PRICE OF CLOTHING: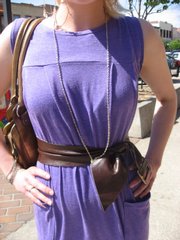 Boots: E Edwards, a gift around 5 years ago.
Tights: My mom bought them for me, I've had them for a few years.
Dress: ATC, purchased yesterday for $11.
Belt: Purchased at Envy, 2 months ago for $5.
Bracelet & necklace: They are my Grandma's, and I've had them for about a year.
Earrings: Charlotte Russe, a gift from a friend, about 5 months ago.
Sunglasses: Envy, purchased 2 weeks ago for $10.
More like this story on Lawrence.com