Wednesday, April 29, 2009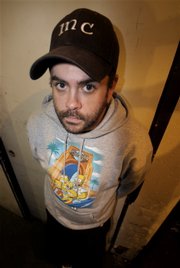 MC Chris drops more references to Star Wars and cunnilingus in a three-minute jam than Kevin Smith can cram into an entire filmography.

Born Christopher Brendan Ward IV, this human pop-culture Cuisinart has built a rabid cult following around his fusion of dork-gasms and hip-hop posturing. Look no further than such tracks such as "Kingdom Farts," an ode to video games and not showering, and his signature tune, "Fett's Vette," a paean to everyone's favorite intergalactic bounty hunter.

While MC Chris has often been dismissed as a niche performer in the genre coined as "nerd-core," he's an undeniably talented lyricist and rapper who takes his music very seriously—he just happens to bust rhymes about pizza and Spider-Man. When not doing voice-over work for Adult Swim (he's best known as MC Pee Pants from "Aqua Teen Hunger Force"), he's constantly recording and touring without the assistance of a record label. MC Chris chatted with us over the phone in anticipation of his stop here in Lawrence. 
Past Event
Thursday, April 30, 2009, 7 p.m.
Granada, 1020 Mass., Lawrence
All ages / $12
lawrence.com: When did you realize you that you wanted to be an MC?

MC Chris: My brother brought home "Three Feet High and Rising." I had heard Run DMC, LL Cool J, Public Enemy, pop rap in the '80s, but it was that De La Soul album that really excited me. They had a nonviolent, alternative approach to hip-hop culture. They were creating their own style and language. They used humor and didn't take themselves too seriously.

I would go on to listen to every group in their Native Tongue crew; Black Sheep, Tribe, and Jungle Brothers. "Wolf in Sheep's Clothing" was very influential as well. I always rapped these songs that I put on mixes and drove around memorizing. That's how I became a rapper without even knowing that's what I would become. It wasn't until I got to New York a few years later that I would actually start writing my own rhymes. And I did that because I had become friends with musicians, pop-punkers and sometimes they wanted to make other stuff besides what they normally did. I was always around filming everyone and making flyers for shows, eventually that evolved into me getting on the mic during jam sessions or when a string would break.
What are five albums that you're listening to right now?

Well, we're listening to XM Radio a lot right now. And lots of '80s and cheesy music I would hear in my dentist office as a kid. I'm having fun rediscovering pop and dance music from the early '90s. Honestly, it's pop radio if I'm touring, classical if I needs to chill, and when I'm home all I listen to is myself. I check out each new album that comes out, but I rarely continue to listen to it. Lately though I've been into Tilly and the Wall, CSS, Gil Mantera's Party Dream, Rye Rye, and the Polysics. 
You do a lot of sketch and stand-up comedy...who are some of your comedic influences? Was comedy your first passion?

Just getting up in front of people was really my first passion. I would leave the table when we'd eat out and go to other tables that had french fries and offer a joke per fry service. I was like five or six. I'm pretty sure I was hamming it up and flirting with everyone as soon as I could talk. Some of my influences include Bill Hicks, Mitch Hedberg, Bob Newhart, and Lenny Bruce, although he wasn't very funny, just original. The work of Del Close and studying at the Upright Citizen's Brigade Theater in New York is also a big influence on how I build jokes organically over a tour, how I make jokes in general. They teach you not to think, but to listen and react which is key with my fans. I think the Adult Swim style has had a great effect on me, too. I try to make the unexpected choice.
As busy as you are, between recording and touring and voice-over work, do you still have time to pursue your hobbies? Are you ever concerned that you might become disconnected from the geek culture which influences your lyrics?
  
I just keep on being me and that seems to be enough. I'm really into all the stuff I blog and rap about. There's still time for fun, I'm just one of those types that buries himself in his work and never comes out to play. But I am working on that. When I'm not making music, I read comics, play video games and go see movies. Now I'm in a new mode where if I'm not working on music, I'm making blogs about items I'm selling on eBay to raise money to fight cystic fibrosis. So far, my fans and I have raised almost $40,000 in less than year. I feel like there's never enough time to get everything done so I work non-stop from when I get up around 8 a.m. till late at night, seven days a week. I only need a few hours of sleep and then I'm back up and working.
Are you looking forward at all to "Transformers 2," or did Michael Bay cinematically rape a cherished childhood memory thoroughly enough with the first one?

No one or no thing can ever rape the awesome parts of my childhood. I watched the cartoon but I was more of a (G.I.) Joe guy so, if Transformers gets screwed up it won't bother me as much. I'm more excited about the G.I. Joe movie that's being made by the Mummy director. They've got some really kickass actors in it and I like how over-the-top the director is, so I'm stoked. Hasbro has been awesome to me sending toys pretty much non-stop over the past few years. They also deliver toys to my shows for me to throw out to fans, and I think they're gonna be sending a Transformers 2 package for my last show of this tour that I'm on in N.Y.C. At the end of the day, who doesn't love getting a Transformer thrown at you?
What games are occupying your time right now? Does "Resident Evil 5" live up to the impossibly high standard of "Resident Evil 4"?

It's not as good but is still fun to play. I think it was really about working with someone else, building strategies, building suspense. I'm happy that they make these games because my talking about them has kinda given me this weird career as a nerd rapper/video-game stand-up comedian. I really love doing something that no one else does. It makes me feel like I'm the first. as for RE5, I really just miss mansions and spooky locales, like in RE3. 4 was better at that. But as Bill Gates has shown us with his jar of mosquitos, Africa is scary.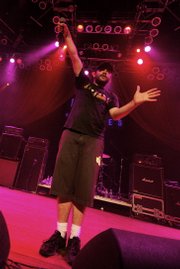 You're a completely independent artist, without a record label of any sort. Are you taking a certain amount of joy in watching the record industry die a slow and painful death? What are the advantages and disadvantages of being your own head honcho?

I dunno if they're dying. I think people are just switching it up. Like TV's mad dash to make streaming sites. Things are always gonna change. I guess if you ever wanna see where things are headed, you should watch what I'm doing. I like being the boss but I'd rather just be the artist with a competent staff. Unfortunately, I'm like Dick Van Dyke in Mary Poppins, with cymbals on my knees and a bassdrum on my back. I'm multitasking like crazy. and it can be stressful, but also very rewarding. I am beginning to feel like I would pay any price to get the music out to more people, because it really does seem to help those in need and have a positive effect on their lives, and now we're raising money to fight CF, so I'm thinking I might want to expand. Look into things like distribution for the entire catalog. We'll see. It may always just be me and I'm pretty sure I can live with that. You really don't need a whole staff or a label to effect people. You just need to put the effort in.
Any projects in the hopper with Adult Swim?

I play Gummi, a gummi bear in Cheyenne Cinnamon and the Fantabulous Unicorn of Sugar Town Candy Fudge. It stars Neko Case and T-Pain. It's CGI and they've been working on it for over a year. I have no idea when it will arrive.
What's proper concert etiquette at an MC Chris show? Or, a better way to phrase it, what's improper etiquette at an MC Chris show?

I made a movie about that called "How 2 Tour" on YouTube. Basically, follow the lead of the audience. If no one is moshing, don't push people around, don't get drunk before the show, don't do hard drugs and try to get my attention all night by flailing around in the front row. Just be a good person. Follow my instructions and you will be rewarded.
More like this story on Lawrence.com