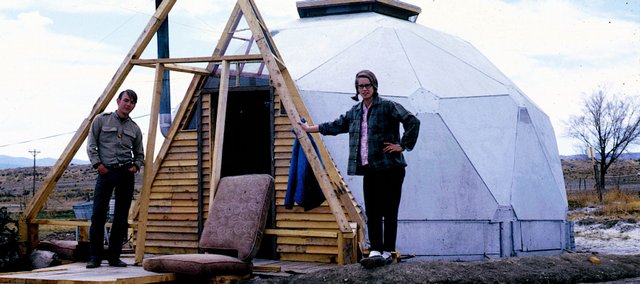 It's been called the first hippie artist commune.
The idea was simple, yet complex: to have a self-sufficient city in a remote area, where artists could focus on their work, build earth-friendly structures and be free of the worries of life associated with more structured living.
"This idea was put together in a loft on Massachusetts Street in Lawrence," says Clark Richert, a Kansas University graduate who helped hatch the plan.
Photo Gallery
Drop City: History in pictures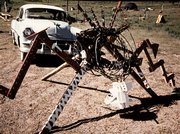 In 1965, three Kansas University graduates co-founded Drop City in southcentral Colorado. The site would end up being an important piece of American history in the architectural structures, art and communal legacy it created. Now, two filmmakers are working on a documentary about Drop City.
It was 1964, and what three friends came up with as a far-fetched idea soon became a reality: Drop City, in southcentral Colorado, a site that has been studied, mimicked, ridiculed and praised in the 45 years since.
Soon, more of the world will know about Drop City and the lessons learned that still resonate today. A pair of documentary filmmakers are creating a work that will highlight an experiment that had its roots in Lawrence.
Drop art
Richert is a native of Wichita who now is head of the painting program at the Rocky Mountain College of Art and Design in Denver. He's a student of geometry, and his works feature complex geometric figures that he has examined his entire life.
He throws in phrases like "zonohedral tessellation" in casual conversation.
Richert was an art student at KU in the early 1960s when he came to know Gene and JoAnn Bernofsky, fellow KU students.
Influenced by the "happenings" — interactive art events — staged by Allan Kaprow of Rutgers University, they began dropping objects off of buildings on Massachusetts Street. The first "drop art" objects were painted rocks.
But this was about more than art — it was about psychology, which was Gene Bernofsky's major in school.
"It was kind of amazing to watch people's reaction," Richert says. "We were amazed by people's response to this."
Soon, they started doing other social experiments. They put a full breakfast, silverware and all, on the Massachusetts Street sidewalk to see what people would do. (Most people avoided it "like it was going to explode," Richert says, until a bicyclist finally ran right through the plate, eggs and bacon.)
Similarly, they tied a big boot to a long string and swung it like a pendulum over the same sidewalk. (Someone a few stories down started swatting at the boot with a broom.)
Richert remembers the Lawrence arts scene as "pretty exciting at the time," especially the avant garde contemporary scene coming out of KU.
This was the atmosphere that gave birth to Drop City.
Birth of an idea
The Bernofskys were living in Lawrence when Richert, then a graduate student at the University of Colorado, came to visit them in 1964. This was when the idea for Drop City came to life.
"We had this impending problem, and that was graduation," Richert says. "None of us really wanted to go out and get a job."
A year later, they found the location and bought land near Trinidad, Colo., about 85 miles south of Pueblo. Influenced by the geodesic domes championed by Buckminster Fuller of Black Mountain College, they built a similar structure with basically no construction expertise. It would be the first of several, some of which were made using the tops of abandoned cars.
Within a year, a core of about a dozen people were living in Drop City. Life was simple but not primitive, Richert says. The men — "we didn't have a good sense of feminism," Richert admits — worked on the buildings and their art during the day, while the women prepared meals and did laundry and other chores (they did have a washing machine).
"I think the level of creativity there was very high," Richert says. "That's what it was about. A lot of people think Drop City was about drugs or something."
Were there drugs?
"It was the '60s, and we were in the age group that experimented with marijuana and drugs," he says. "But that wasn't the focus."
Besides, he says, nobody had money to buy drugs anyway. The artists sold their works and helped design posters for a company in New York City, but nobody got rich. The money they did make was put into a common bank account that anyone could deposit into or withdraw from.
Richert lived at Drop City for three years. Eventually, the site was abandoned in 1969. Various reasons are cited, including too much drug activity, the sheer size of the place (around 40 people) and too many drifters who weren't creating art or helping build structures. Some say the place just got too much publicity and got too big.
(And, in fact, some still shun publicity to this day. JoAnn Bernofsky, one of the KU grads/founders, declined an interview request, and her husband, Gene, said he was not available to talk about Drop City.)
Richert admits he came out with a more positive view of the situation than most.
"A number of different people wonder why Drop City failed," he says. "I did not regard Drop City as a failure. My view is it's a success. It's one of the best things I've ever done."
'Lot of hope'
Tom McCourt was living in Lawrence in 1984 when he saw a garage sale ad that mentioned Drop City memorabilia.
That's when he met the Bernofskys and when he first got interested in studying Drop City.
McCourt was working for the Kansas Audio-Reader Network at the time. He now is a faculty member at Fordham University in New York.
McCourt originally planned to write a book about the site but later met New York filmmaker Joan Grossman and decided to pursue the documentary.
He's not surprised a place like Lawrence gave birth to a place like Drop City.
"Lawrence has always been a locus for interesting stuff," he says.
The filmmakers expect to have 40 to 50 hours of footage to examine. Release of the film is still more than a year away.
"I think it offers a lot of hope, ultimately," McCourt says of the Drop City message.
Grossman says there are plenty of lessons to be learned from the Drop City experience today:
• The commune was created during a time when many Americans were disillusioned by the Vietnam War and were looking for another way of life.
"People feel anxious about the wars we're in, about the economy and the climate, all of these things," Grossman says.
• Those who lived there constructed what is viewed as one of the first solar-heated homes in the United States, and the recycled materials used also resonate with those interested in "green" construction.
• Many of the Drop City residents used the experience to springboard into successful arts, video and activist careers.
Grossman says she talked to a woman in Trinidad recently who had come to realize these advances.
"She said, 'You know, I used to drive by Drop City all the time, and I thought they were a bunch of hippies. And now I realize they were geniuses,'" Grossman recalls.
Permanent archive
Richert has done a lot of thinking about Drop City through the years. Much of his art is based on ideas he and others came up with there. And every couple of weeks, a graduate student doing research or a journalist working on a piece will call him for information.
Over time, the farmer who now owns the property has demolished the domes that became Drop City's trademark. The last one came down several years ago.
"When Drop City finally got torn down, I was kind of depressed," Richert says. "I built all the buildings at my home, using 3-D modeling. I want there to be some sort of record of Drop City. This documentary is sort of our best opportunity to have that record."