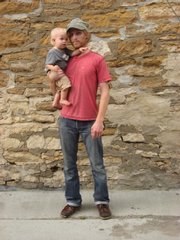 Brady Lewis
Age: 29.
Sign: Cancer.
Hometown: Riley.
Time in Lawrence: Nine years
Occupation: Local Burger manager/operator.
What were you doing when scouted: Hanging out downtown with the family.
How would you describe your style: Metro-hillbilly. Clay Aiken meets Indiana Jones.
Favorite fashion trends: I like when people feel good and confident with what they're wearing. I like short hair on girls, argyle socks and whatever Dennis Abbott is wearing.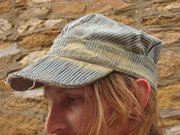 Least favorite fashion trends: Train hats, because it seems like now everyone is wearing them. I'm also not a fan of old men wearing spandex at dinner.
What would you like to see more of in Lawrence: I'd like to see conscientious restaurants and more early shows and early dance parties, like around 7 p.m. Everything in Lawrence starts so late, which isn't convenient if you have a kid. We need some more baby-friendly boozin'.
Who are your fashion influences: My wife, Lauren. When we met, we were wearing the exact same thing and we definitely still share clothes.
What's the best part of your job: My family eats really well all the time. I really enjoy the blood and the sweat involved in managing a restaurant.
Tell us a secret: I always wear mismatched socks. And I love the Oak Ridge Boys.
PRICE OF CLOTHING:
Shoes: Birkenstocks, purchased at Footprints one and a half years ago for $60.
Socks: Gap, they were a gift from my wife about eight months ago.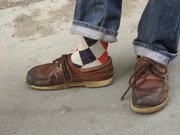 Jeans: My wife's jeans. We share clothing. I think she got them a year ago.
Shirt: Also my wife's shirt, always worn inside out. She's had it for almost four years.
Hat: Purchased at Rails & Sails in Savannah, Ga. I've had it for over 10 years, and I think it was around $6.97.
Plugs: Creation Station, purchased 1 1/2 years ago for $5.
Baby: Our son Julian aka Juice. He's 15 months old.
Many thanks to Meghan Brozanic who, after nearly two years of scouting, is leaving Larry for Chicago. ¡Que dios vaya contigo!