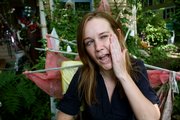 Laura Moriarty, bestselling author of "The Rest of Her Life," "The Center of Everything," and her latest, "While I'm Falling" (Check out our extended interview and podcast with Laura Moriarty)
Currently reading: "Last Night at the Lobster" by Stewart O'Nan
"It's about a Red Lobster that's closing down because corporate says it's not earning enough. It's told from the point of view of the manager, who's had to let everyone go and feels a strong sense of responsibility for all his workers, and it takes place on the night they're closing down the Lobster. It's pretty gritty and not a real pick-me-up, but it's pretty good. The characters are done pretty well so far, but I just started it. I'm going to be on a panel in St. Louis with the author, Stewart O'Nan. I'd never read anything by him before, so thought I better check him out before I'm sitting next to him. I'm glad I did, because it's really good. He's written about 11 novels and is known for realism and depicting people who are struggling financially."
Book everyone should read: "The All-True Travels and Adventures of Lidie Newton: A Novel" by Jane Smiley
"It's a horrible title, but I recommend everyone—especially Lawrencians—read this book. It should have been called 'The Abolitionist's Wife.' It's actually set in Lawrence and it's about this woman, Lidie Newton, who comes to Kansas with her abolitionist husband in the 1850s. It's amazing. Everyone at The Raven kept recommending it to me, but I put it off because I didn't like the title. Then I read it and I was knocked out. Newton is an amazing character who's married to another amazing character, so it's this story of a marriage, but at the same time it's a story about Lawrence's history. It just comes alive. I really love historical fiction when it's done well, and after you read this, you'll never look at Lawrence the same."