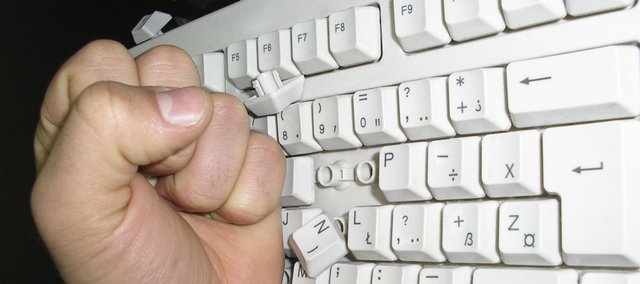 I've received my share of crazy e-mails here at the paper.
Crazy is, of course, the polite term.
I'll never forget the ire I drew from the Dixie crowd for writing a story about the Confederate flag's not-so-stellar legacy in contemporary films such as "The Dukes of Hazzard." Or the angry rebukes for giving "Brokeback Mountain" a tepid review. Or the incredulous rants for suggesting that record-scratching DJs and wah-wah pedals were two of the worst things to ever happen to modern music.
You just never know what will set some people off.
That's the foundation for a new site called E-mails from Crazy People.
"You can type in a straightjacket?" is the teaser that adorns the site, which collects communications between parties from around the English-speaking globe.
Take this one, for instance, sent by "Customer Sam H" to Cabela's product information department:
"This is going to sound strange, but what does your Catfish Charlie Blood Catfish Dip Bait taste like? It's item IK-111006 in your Internet. I think my girlfriend may have tricked me into eating some of it on a cracker. It tastes what I imagine rotten fish would taste like. She cried, saying it was a cheese spread she'd been working on all day, but that may have been faking ..."
Shane from the info department answers:
"Unfortunately I couldn't locate anyone who has tasted the catfish bait, so we don't know what it tastes like. Sorry about that. I would have to go with really bad cheese spread."
While this particular reply was fairly tame and sensible — it was from a corporation, after all — the majority of the postings on E-mails from Crazy People tend to derive their best humor from the responses. One such entertaining exchange involves a request by a North Carolina-based homeowner's association to a fellow resident. Here's an excerpt:
"The display you have set up on the outer section of your lot has us a bit concerned as the statue appears to be a type of Pagan worshipping symbol, unlike the other lawn decorations in our neighborhood. Shirley (XXXX), a neighbor of yours, says that this is a Satanic being and that you may be involved in the Occult. We have all noticed strange goings on around the neighborhood. There are flashing lights in the sky and numerous dead animals in the road. ... We insist that you remove this questionable display at once. Our children are not to be influenced by Devil worship and deviant behavior."
Chris XXXX replies: "I am addressing the issue of my Gargoyle which the benevolent homeowners association seems to take offense to. I will NOT be removing my Gargoyle any time soon. A Gargoyle is an ancient protector of property, and can be seen all over Europe in the architectural structure. I guess the homeowners association hasn't gotten to them yet. My Gargoyle basically looks like a puppy with wings. Does this frighten you? I can only imagine you screaming in fear when the Snuggles fabric softener bear is speaking to you through your evil television set ..."
Not just limited to e-mails, the site also recruits screencaps, voicemails, text messages and tweets. Admittedly, it's hard not to sound crazy in a tweet.
This is probably a good strategy for the site to expand beyond the confines of e-mails, though. Seems like all the "crazy people" I encounter these days spend their time posting comments on LJWorld.com.
— Entertainment editor Jon Niccum explores facets of pop culture that have established a unique niche on the Internet in Net Worth. He can be reached at 832-7178.