Eric Melin knew from an early age he bore the soul of a guitarist trapped in the body of a drummer.
The Lawrence musician spent years performing professionally in acts such as Ultimate Fakebook and Truck Stop Love, but it was always from behind the kit. Fortunately, Melin had a secret outlet to satiate his six-string curiosity.
"It had to be right about sixth grade when I started to get into heavy metal," recalls Melin (who writes movie reviews for lawrence.com. "I would stand in front of the mirror at home and rock out to The Scorpions, and jump up and down while I pretended to play guitar."
Now he's taking that skill to a whole other level.
Since winning a June regional event in Kansas City, Melin is appearing today in Washington, D.C., as one of 25 competitors in the US Air Guitar Championships. There, "Mean Melin" will match faux licks with other national standouts such as Airin Maiden, Big Rig, Duke Thrashington and the legendary Hot Lixx Hulahan.
Or as the event's poster sums it up: 25 cities, 1 winner, 0 guitars.
"I always wanted to be a guitar player. Yet it was very clear to me early on that I needed to be a drummer because I couldn't play guitar," Melin says. "But I think being a musician might actually hinder you when playing air guitar because you're too worried about hitting the right notes. They just have to look like they're the right notes."
Melin first became aware of the pro air guitar circuit after renting the 2006 documentary "Air Guitar Nation." When the regional round was announced as being held at Kansas City's Record Bar, the 38-year-old musician knew it was his golden opportunity.
"It wasn't like some local guy hosts it at a bar and Cuervo Gold gives away $100 to the best air guitarist. This was an organized thing that people take seriously like a sport," he says. "Of course, they're winking the whole time because they know it's ridiculous."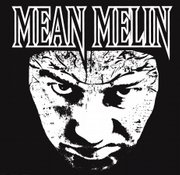 'Dead' reckoning
Joining Melin on the D.C. adventure will be his air roadie, Nick Colby.
"I was blown away when he won the regional. Now I have to see all the other winners from different states who are just as freakishly excited," says Colby, former bass player of Ultimate Fakebook who currently plays with Melin in The Dead Girls.
Colby and a mutual friend from Baltimore will share roadie duties, which he describes as "pre-show shenanigans." A novice to the whole scene, Colby became a convert after attending the K.C. regional.
"It's so over the top. It has nothing to do with playing guitar. It's just straight energy. It's funny to see people go for it," he says.
For the D.C. performance, Melin will offer an interpretation of "Wake Up Dead," a 1986 track from Megadeth.
"It's my favorite song to play air guitar to," Melin says.
He'll be dressed in a custom Mean Melin T-shirt, studded leather wristbands and white pants trimmed with flared triangles that he borrowed from a friend who portrayed singer Ozzy Osbourne in a Black Sabbath tribute band.
But it is the bass player of Kiss from which he borrows his on-stage attitude.
"Gene Simmons said, 'I'm not playing to the guy in the front row, I'm playing to the guy in the back row,'" he explains. "My fretboard is imaginary. I can run the length of the stage, throw it up in the air and catch it or do a bit where I go all the way down the neck, and the neck extends for five feet like some cartoon."
Interestingly, Melin has actually performed for real at the renowned 9:30 Club in D.C. where the national competition is taking place — first with Truck Stop Love (opening for Everclear) then Ultimate Fakebook (opening for Good Charlotte).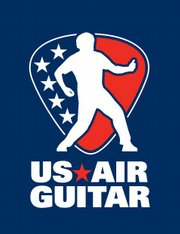 Air Guitar World Championships rules
• Each performance is played to 1 minute (60 seconds) of a song.
• The 60 seconds can start anywhere in the song.
• The instrument must be invisible and be a guitar, i.e. air drums not allowed.
• Air roadies are allowed, but must leave the stage before the performance.
• Back-up bands (air or real) are not allowed.
'Fire in his belly'
"I think the most misunderstood aspect — or perhaps most underestimated aspect — is how genuinely entertaining a spectacle it can really be," says Kriston Rucker, co-commissioner of US Air Guitar.
"Once you become hooked on the mashup of professional wrestling and rock show that is competitive air guitar, you soon forget if you originally thought it was funny, thought it was cool or thought it was the stupidest thing you'd ever heard of. Slowly but surely you grow to love it on its own terms."
Despite Melin being a rookie to the air guitar scene, Rucker believes him to have a "legitimate shot" at winning.
"If Melin has the raw talent, coupled with the humility and sense of history to learn from those that have gone before, then he can never be counted out," Rucker says. "I think he just might have enough fire in his belly to shock a nation."
Melin is no stranger to faring well in the national spotlight. In 2007, he was both a contender on the VH1 TV show "The World Series of Pop Culture" and a contestant on the syndicated "Who Wants to be a Millionaire," where he won $25,000.
"I must be really lucky," Melin says of his uncanny ability at earning such limelight berths.
If he triumphs this weekend, he will get to represent the U.S. at the 14th annual Air Guitar World Championships held in Oulu, Finland.
The potential grand prize for his air mastery?
A guitar, of course.


MSNBC.com story on Air Guitar World Championships and one of Melin's competition: