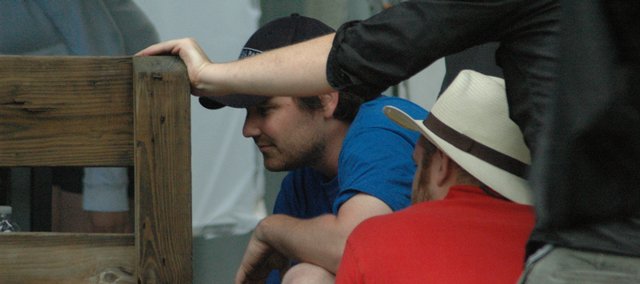 In the cinematic masterpiece that is "Dumb & Dumber," the main characters take off on a road trip with Jim Carrey's Lloyd exclaiming to Jeff Daniels' Harry, "We're really doing it, Har!"
Now in the midst of filming his own movie about a road trip, independent filmmaker Joe Saunders has been too busy to take note of the start of his own journey.
"I was talking with the director of photography the other day, and we realized we had never had that realization because this was just the next project for us to do," says Saunders, whose professional credit is William J. Saunders. "I guess I had that moment when we were thinking about how we hadn't had that moment."
Joined by a crew consisting of colleagues from the film program at New York City's Columbia University, Saunders was in Eudora this month shooting scenes for "Sweet Little Lies," his first full-length feature. The project has been in gestation for about four years.
The film is about 17-year-old Bess (Caitlin Kinnunen), who lives in a trailer park in Kansas and whose mother has just died. Rather than being put into a foster home, she and her best friend — 9-year-old Waldo (Joseph Montes) — steal a car and head to Las Vegas to find the father who Bess hopes is still alive.
The filming will last about five weeks and take the cast and crew from New York City to the Kansas City area and then to Las Vegas and Monument Valley in Utah.
Saunders says the movie would be funny and dramatic, aiming for the overall feel of films such as "Stand By Me" — a favorite from Saunders' youth.
"We're trying to make a real, heartwarming movie," he says. "We don't have aliens or huge explosions, and I think the production value that we're working in very seldom happens."
Those production values are contingent upon not just the sets and locations, but also the format in which the film will be shot.
According to producer Maya Anand, shooting the film using video rather than film will allow for spontaneity and convenience.
"One of the first decisions we made was to shoot the film in video and HD, and that decision alone made a lot of the film possible because of the nature of the movie," Anand says.
Saunders, whose father is former Kansas City Chiefs offensive coordinator Al Saunders, and other crew members have ties to the Kansas City area and decided it was a landscape that was visually untapped.
"We wanted to shoot on a location that is fantastic, but hasn't been seen a lot. The landscape of my youth in the Kansas City area was one of those places," he says.
Saunders says the generosity of several people throughout the area — for instance, the crew has been loaned cars and an RV from Kansas City dealerships — has made the production of the five-figure film a lot easier.
"The movie would not be made without all of the charitable donations," he says. "It's a nice homecoming to make a movie in your home city."
Despite a rainy second day in Eudora, the crew experienced an uneventful shoot.
"It's going smooth by production standards," Anand says, laughing. "Every day we've shot, and every day we've come out unscathed."
Filming should be finished by the end of August, and post-production likely will wrap in September.
The film then will be entered in various film festivals — such as Sundance in Park City, Utah, and South by Southwest in Austin, Texas — with the hopes of getting a distribution deal. They also hope to have a Lawrence premiere.
"The goal we have is to bring the film to a festival that will really embrace it," Anand says. "It's a movie that is so much about America and the American landscape and the West, so we're counting on that to have an appeal at American festivals."
They hope for a theatrical release, but the proliferation of various media such as cable television, DVDs and online streaming via Netflix also are possibilities.
And thoughts of those endless possibilities are fuel for the cast and crew.
"I don't think we'd be doing it if we weren't thinking that way," Anand says. "I had high hopes for the project before it started, and now that I'm really in the thick of it I still have those high hopes."