Saturday, August 15, 2009
Nail-biting new movies: Hurt Locker and District 9
Kathryn Bigelow's riveting and profoundly tense war movie The Hurt Locker, set in 2004 Baghdad, follows the members of a bomb squad as they go looking for IEDs, hoping to stay alive. Far and away one of the strongest of the films to come out of the Iraq conflict, it's a white-knuckle effort about survival and the adrenaline rush of risk-taking.
District 9 is one intense, intelligent, well-crafted action movie—one that dazzles the eye with seamless special effects but also makes you think without preaching. The film has the aesthetic trappings of science fiction but it's really more of a character drama, an examination of how a man responds when he's forced to confront his identity.
Early Replay Show with The Lonesome Hobos
More a collective of old townies than a "band" per se, The Lonesome Hobos play originals inspired by the golden age of country music-Hank Williams, Jimmie Rogers, the cast of Sun Records, Bob Wills, Roger Miller and even a little early period Dylan. The band has been performing around Lawrence for over a decade and carried on following the passing of founding member Billy Hunsinger in 2001. If you've ever wished you had the type of grandparents that would kick it old-school on the front porch, The Lonesome Hobos might just be the next best thing.
Arrive early for this all-ages patio show to catch the folk and Americana stylings of The Heebie Jeebies and the fat-bottom funk of Das Furbender.
Paraguayan Guitarist Gabriel Duarte at the Unitarian Fellowship of Lawrence
For a worldly music experience, consider dropping by the Unitarian Fellowship of Lawrence from 7 to 9 p.m. to see Gabriel Duarte, maestro of classical and folkloric paraguayan guitar. Duarte directs a guitar conservatory, sharing his knowledge and skill with students. He has performed in Paraguay, Brazil, Argentina, and the U.S., and he has made numerous radio and television appearances.
Anomaly Orange Improvisational Comedy at Wilde's Chateau 24
Join KC-based improvisational comedy group Anomaly Orange as they perform their debut Lawrence show. Featuring former members of Lawrence's own (now defunct) "Hypothetical Seven" troupe, Anomaly Orange promises a night of hilarity, stories about yeti birth control, and unseemly uses for a case of fortune cookies. Doors open at 8:30pm, show at 9:00pm.
Blood:Water Mission Benefit at the Jackpot
Head on over to the Jackpot to catch this rocktastic benefit show for Blood:Water Mission, an organization working against the HIV/AIDS and water crisis in Africa. Proceeds from the show will help fund clean water and clean blood projects. We interviewed organizer Sarah Sung last April about her Lucha Narrative project. The conscientious fun begins at 10 p.m. with Hidden Pictures and continues late into the night with The ACBs and The Noise FM.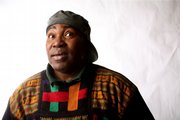 Ras Neville and the Kingstonians at the Jazzhaus
One would be hard-pressed to find a Lawrencian with a more thorough knowledge of Jamaica than Neville Brown. The singer spent his teenager years wandering around Kingston and tourist towns like Ocho Rios, performing on beaches and public streets to stay alive. A chance encounter with a U.K. Record producer gave him the money he needed to come to America in the late '80s, and he took full advantage of the opportunity by learning to read and eventually graduating with a degree in social work from the University of Kansas.
Brown's recordings with the Jamaican dub producer Scientist earned him a place in reggae history, though local audiences are probably more familiar with his performances with Ras Neville and the Kingstonians (formerly known as Common Ground). Listen to our podcast interview with Ras and head over the Jazzhaus anytime between 10:30 p.m. and 1:30 a.m. to see him do his thing.