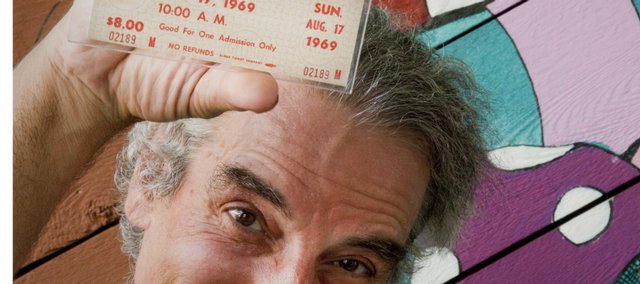 Forty years ago, the Woodstock Music and Art Fair promised "3 Days of Peace, Love, & Music."
Lawrence resident Tom Alexios experienced that and much more.
Alexios was one of the estimated 400,000 people who attended the festival, which was held on August 15-18, 1969.
"Being in the midst of it, we didn't realize it was something as history-making as it was," he recalls. "It was almost like cultural overload."
Alexios believes part of the reason the event was such a milestone was because of the context of what was going on within the rest of the country.
"That was just such a unique time," he says. "Right before that we had gone to the moon. We had Vietnam. We had the invention of the birth control pill, which started the sexual revolution. There was so much questioning of authority. Now this event came up, which was a first. It redefined how music was presented."
A resident of Fairfield, Conn., at the time, Alexios was one of the rare people who experienced the complete festival — from Richie Havens' opening "Freedom" set through Jimi Hendrix's unparalleled rendition of "The Star-Spangled Banner."
"We got there a couple days early because we heard rumors there would be a larger crowd than expected," says Alexios, who was 22 at the time. "Our attitude was, 'When we got home, we got home.' There was no job to go to. Every day was Saturday back then."
While musical artists such as Hendrix and Ten Years After made the strongest musical impression on the longtime jazz educator, Alexios was particularly conscious of the lack of violence normally associated with gatherings attended by so many.
"It really was love, peace and happiness. There was just so much sharing of everything. There was none of the callousness we see from some of the youth now," he says.
Although a handful of other Lawrence residents can boast being Woodstock veterans, Alexios has yet to run into any.
"I meet a lot more people who say they were gonna go or wished they had gone," he says.
Along with his priceless memories, Alexios still possesses a rare memento from the event.
"They had sold all the multi-day tickets in advance, so we had to buy single-day tickets. I came back unscathed with my (uncollected) Sunday ticket. I misplaced the others amid the chaos of the event itself," he says. "I can't imagine there are that many tickets still around from back then."