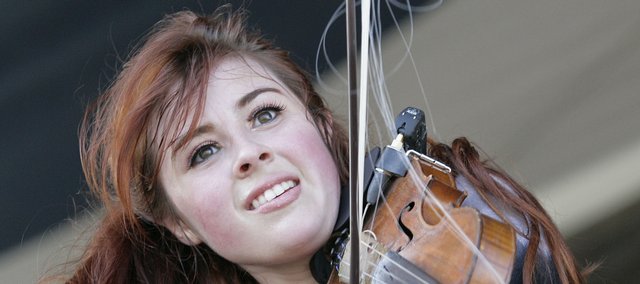 It wasn't your typical 18th birthday party.
When New Orleans fiddler/singer Amanda Shaw entered formal adulthood last August, she gathered more than 800 fans and fellow musicians such as Irvin Mayfield and Waylon Thibodeaux for a concert. The event raised more than $11,000 for save-the-wetlands causes in Louisiana.
"That was a milestone for me," Shaw says.
There already have been many milestones for Shaw, who despite being only 19 has been described as a "seasoned entertainer" and has become a fixture in the New Orleans music scene, routinely drawing large crowds to her performances at the New Orleans Jazz and Heritage Festival.
Past Event
Friday, August 21, 2009, 6 p.m.
Lied Center, 1600 Stewart Drive, KU campus, Lawrence
All ages / Free
But she's looking to break out nationally, and she'll play for a new audience Friday when she comes to Lawrence. Shaw is the featured performer at this year's Outdoor Concert and Family Arts Festival at the Lied Center.
Shaw started playing violin at age 3. She first studied classical music before becoming captivated with Cajun music. She started her own band and soon gained some big-time attention, playing twice on "The Rosie O'Donnell Show," opening for Charlie Daniels and playing on stage with Cyndi Lauper.
She also has done some acting, appearing in Disney's "Now You See It" and "Stuck in the Suburbs," and was a major part of the IMAX documentary "Hurricane on the Bayou."
She says being folded into the New Orleans music scene helped nurture her young fiddle talent.
"I have to say I've been really lucky to live in a city that has embraced me from the time I was young," Shaw says. "To know musicians like Rockin' Dopsie and Chubby Carrier, and they'd let me come and sit in on a song, I'm lucky. I've never felt like a monkey out there. I've always felt from the time I was a little kid, I was being true to the music."
Despite not having a Cajun background herself, Shaw has become a student of the traditional music form. But she's not one to limit herself to the way things have been done in the past — her recordings also include covers of tunes by The Ramones and The Clash, among others.
"I listen to anything and everything," she says. "I had a friend laughing at me. He was working on my mom's car, and I had a mix CD in there. It might be Loretta Lynn, then a fiddle tune, then Janis Joplin, then Dolly Parton, then Ben Harper."
Shaw currently is working on her fourth album, which is the first to be produced by Poorman Mayfield Music, a new label founded by Irvin Mayfield and others.
"When we first came up with the idea of starting the label, we sat around one night and said, 'How do we create and release quality content?'" says Cedric Scott, president of the label. "Amanda, at such a young age, understands what quality is. She proves it every day. ... We already know Amanda Shaw is a star. It is our position at Poorman Mayfield Music to make sure that the rest of the world knows."
In a city still on the rebound after the 2005 Hurricane Katrina, Shaw says she's convinced the music scene will be even better than it was before the storm.
"A lot of people felt devastated about the whole thing," she says. "We've come a long way. We do need to continue to remind people of the story, and there's a lot to do. It's OK for people to come and visit New Orleans. Tourism is our No. 1 way to make money."
And she notes that there are plenty of acts in plenty of genres playing every night.
"I think people appreciated it more after it was gone," she says of New Orleans music. "When the people started to come back, the music started to come back."
As for her and her own band, the Cute Guys, Shaw says she would love to someday be a national name. But she says she won't go for that if it means sacrificing the quality of her music.
"Of course, my ultimate goal is to be able to make a living and be able to travel and go all over," she says. "There would be no better feeling than to do that."