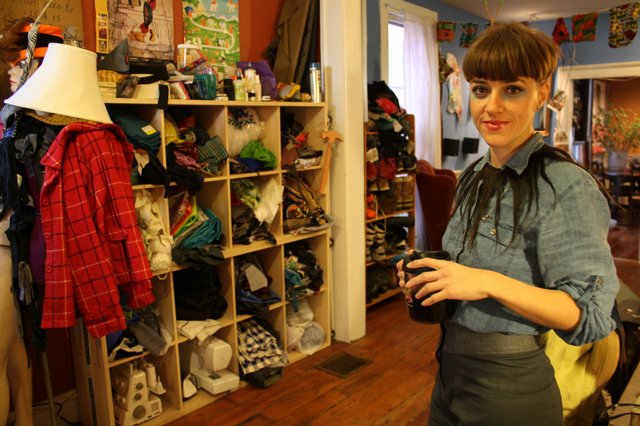 Wednesday, August 19, 2009
It's every TV fan's worst nightmare: a favorite show is taken off the air and month after month goes by without word of whether it will ever return.
Such has been the fate for fans of "Project Runway." Longtime viewers have been waiting to see Season 6 for nearly two years now, thanks to a legal drama between the show's owners, the Weinstein Company, and its old network, Bravo.
It's been a bummer for fans, but imagine how it would feel for anyone actually on the "lost season" of "Project Runway."
Kansas City's Ari Fish was one of the 16 designers who long ago taped the reality TV-style fashion competition and has just had to wait — and wait — for it to see the light of day. Not only that, Fish has had to stay completely mum about her experiences on the show due to her contract — other than to say it was "a fun, crazy experience."
The wait is about to come to an end though, as the first episode finally airs Thursday on its new network, Lifetime (9 p.m. on Sunflower channel 69).
When it does, many in Lawrence and Kansas City will be introduced to Ari (AIR-ee) along with the national audience. But there will be no local celebrity sightings of Fish, no autographs signed in the grocery store line or anywhere else around here. In July, Fish moved to Berlin, where she is likely to stay throughout the show's airing in the United States.
Berlin, for its love of modern art, may prove to be a great fit for the artist, whose designs are nothing if not avant-garde.



The beginning of the mend
Fish's unconventional approach to design may stem in part from it being a relatively new avenue for her. After finishing ceramics studies at the Kansas City Art Institute, Fish was convinced in 2007 by some friends to try her hand at being a part of KC's eclectic West 18th Street Fashion Show.
"I had no idea what I was doing," she says. "I didn't have a ceramics studio, and all that I was doing at the time was drawing. So I chose my models and was like, 'OK, what would they want to wear? How do I want them to look? What potential can we harness here as far as image goes?'"
The designs were well received by the show's huge audience — and Fish received commissions based on that showing. Making clothing has been her primary focus ever since.
She has come to view the clothing she makes as a type of "tough" armor — her desire is for the wearer to feel powerful (but still comfortable) by playing with the line of what is acceptable and not acceptable to wear every day.
Her creations are not anything you'd find in an average clothing store — her interests lie more in nudging those toward "the idea of wearing something that is not bizarre but is pushing the boundaries every day. Wearing something like that I think can really change your attitude slowly and gradually."
Fish takes that to heart not just in design, but in what she wears, too. She enjoys donning one of her designs — particularly in airports — plus a couple of pairs of false eyelashes made from feathers. "I look insane," she says.



Fresh Fish
Ari's looks range widely — from Tunics made of woven nylon strips and zipped sides, to denim jackets and pants created out of hundreds of triangle cutouts. Many elements recall medieval embellishments, others feel almost military-esque. Everything is playful, much is extremely colorful. Her work features a lot of stitched details over compounded layers of fabric, but the garments avoid the appearance of being overworked or heavy.
All that attention to detail doesn't always exact a huge toll time-wise on the designer either — once she figured out the design, her recent denim pieces have only taken between two and six hours apiece to complete. Not everything can be done at such breakneck speed though — others, such as the woven nylon garment have taken as many as 30 hours.
At this year's West 18th Street Fashion Show, Fish created a line with friend and fellow designer Peggy Noland. Their bizarre, loud designs were a hat tip to Kansas City, constructed out of fabrics emblazoned with large KC Royals and Chiefs logos. Among the other designers' much more traditional looks, Fish and Noland's styles in basic blue, red and yellow were impossible to miss.



On the 'Runway'
Of course, Fish can't reveal how far she makes it through the show. That hasn't stopped local "Runway" fans familiar with her from speculating though.
Will her even tempered, down-to-earth personality be an asset or a liability in show that tends to favor drama? Will her bizarre, otherworldly designs resonate with the judges week after week?
One thing is for sure: Fish is extremely industrious, and is well prepared for the intense schedule that "Project Runway" is known for. She credits her productivity to her time spent in school, which required a constant stream of new work.
"I strongly, strongly believe in the Art Institute," she says. "The idea of working in studio is firmly ingrained. I don't think at all that I would have the work ethic to do what I do now without it."
Fish keeps up a seemingly non-stop stream of new designs, thanks in part to her combo studio/apartment. "I will always have a studio in my living space," she says. "It's good to treat your work like a job if you need to keep your studio time in check, but I think it's bad when you have to go to the studio. It should be a blessing."



Delinquent designers
Whether it was to get away from the attention that her appearance on TV will inevitably bring or just because she could, Fish accompanied Noland in July to Berlin, where Noland is opening up a new store.
Fish's Facebook page rings with how Berlin has been inspiring, and that she still continues to work on her designs.
The designers say they plan to return to Kansas City eventually, but for now there is no set date.
Before she left, Fish described Kansas City as "a really good city to do artwork in, because it's not so distracting. I think it's because no matter where (else) I go, I never find people with the same intellect or interest. I think it's mainly the people that keep me here. I think it's really supportive."