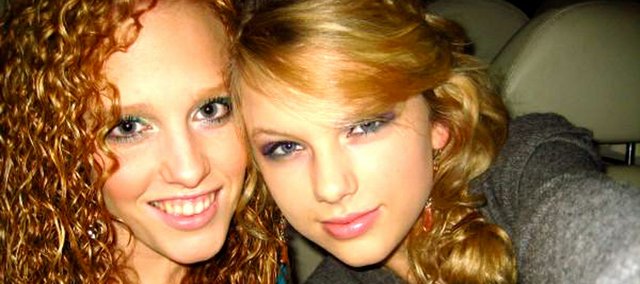 Thursday, August 20, 2009
While Abigail Anderson was looking for an exit, everyone else was looking for an introduction.
On April 27, Anderson did a very normal thing: She went to class and sat next to her best friend. To a big lecture hall, in fact, where very few know one another by name.
It's just that the 400 other students in Chuck Marsh's Journalism 101 class did know the name of her best friend. As did the hoards of people lining the halls and exits of Budig Hall that day.
With two records made and millions of albums sold, the 19-year-old country-pop singer has won awards, been nominated for a Grammy and graced the covers of magazines from Allure to Seventeen to Rolling Stone with the sort of smile and honesty that's so hard to come by, it's refreshing.
Swift had just performed in Missouri and had decided to take a three-day break to spend time with her best friend and get a taste of the college life in Lawrence. Anderson wanted Swift to experience her favorite class. Chuck Marsh recalls the surreal day.
"I noticed there was a large gentleman sitting in the balcony, and I thought, 'Oh, OK, somebody's dad is here, that's fine.' And then I noticed two young women sitting in the balcony, and I always like to get the students down in the front, but I thought, 'Oh, they came in late. I'll be nice today. I won't hassle them,'" Marsh said. "Well, it turns out that that was Abigail and Taylor Swift. I didn't know it, and the large gentleman was Taylor Swift's bodyguard."
Meanwhile, the excitement growing outside the classroom was almost as intense as inside. Stephanie Payne, Anderson's roommate, was also sitting in the class. At one point, she got up to use the restroom. After making her way back to the class through a maze of bodies lining the halls outside the room, she sent Anderson a text message. All it read: "Good luck."
Anderson didn't need a warning to feel nervous. She said minutes into the class she was already looking for an exit strategy.
"It's funny how over the course of, like, an hour class that literally one text message can set off a whole campus," Anderson said. "I remember sitting in class trying to think of an exit, of how we can do this. And I was writing her and saying, 'Do you want to do this?' And she was like, 'No, it's OK. We'll exit the way we entered.'"
That exit was made only after a Beatlemania-type hysteria that Marsh admitted doesn't normally hit his classroom.
"As soon as I said, 'See ya next time' — I mean there was such a movement to that corner of the room, I turned to the teaching assistant and said, 'What's going on?' and she said, 'I have no idea.' The students are running past her going, 'Taylor Swift's up there! Taylor Swift's up there!'" Marsh said.
Fame and freshman year
So, what is it like being the best friend of a superstar? To have people come up to you on the street, or to meet Justin Timberlake, or head off to college thinking you didn't know a soul only to have everyone know WHO you are?
Well, to hear Anderson tell it, it's just life as she knows it.
The teens met before Swift's first record dropped, when they were both in the same English class at Hendersonville High School in Nashville, Tenn. As high school freshmen, they became inseparable, but it wasn't long before the girls got a hint of what life would be like if Swift made the big time. A year after becoming friends, Swift's music career made it necessary for her to be home-schooled.
"I mean, any girl knows that if your best friend leaves you in 10th grade, it's just like, 'OK, what do I do now?' So, it was hard for both of us," Anderson said. "I had to kind of make a new name for myself around school, and she had to do her own thing out there and miss everything that had been her life for the previous few years. But she just immediately just started doing so well ... you just couldn't really think about anything else."
Cue the teenage jealousy? Not in the slightest, said Anderson.
"I just remember she called me one night and we had to have the talk about she's not coming back to school," Anderson said. "But after that it was just a way of life and we dealt with it, and we've actually gotten closer since."
In fact, Anderson said, their relationship was built on the foundations of goals both girls had set for themselves. For Swift, it was becoming a recording artist. For Anderson, it was becoming a top-notch swimmer.
"When I was a freshman, I knew I wanted to swim in college, at a Division I school, and she knew that she wanted to go on tour. And it's just really cool how we both ended up doing that," said Anderson, who set school records at KU last season on medley relay swimming teams. "After you've kind of struggled and actually gone through the journey that you're talking about making, when you look back on it, it's interesting to see that you actually did do the things that you really wanted to do."
But that doesn't mean that the star doesn't look at Anderson's life and wonder, "what if?" Immediately after her trip to Lawrence, Swift headed to Chicago for an Oprah appearance and gushed in a video on Oprah.com about the town and college life, saying: "My perfect day off would be going to visit my best friend Abigail in Lawrence, Kan. She goes to Kansas University, so, um, basically that's my best friend since I was 15, and I love going to visit her. So, it's this little college town and it's kind of fun because you always kind of wonder about the path you didn't take and the path I didn't take was going to college, so, um, when I have days off, I like to go and visit Abigail and kind of experience college without actually having to take tests and study."
Grateful
Swift's journey has touched Anderson along the way. Not only has she had the cooler perks of being featured in a song ("Fifteen"), a music video ("Picture to Burn") and on television shows like "The Ellen DeGeneres Show," she's also had to deal with the downsides. Fanatics have showed up at her dorm room looking for her, made fake MySpace and Facebook accounts and even posted pictures of her and her boyfriend on Twitter, pretending, Anderson said, to be her.
But she said she wouldn't trade how things turned out for a more normal experience or a different best friend. She's not naive to the fact that though her best friend can't come to her swim meets — "People were missing their events to try and get her autograph, and she felt so bad," Anderson said of Swift's last swim meet appearance — she gets a taste of the kind of life most only dream of, even if it means being cornered in class.
"I'm just grateful that she wants people to also be there with her," Anderson said. "She's not the type of person who's just 'me, me, me,' she wants her friends to partake in it, she wants everybody to be there. I'm just grateful that I'm the one that she chooses."