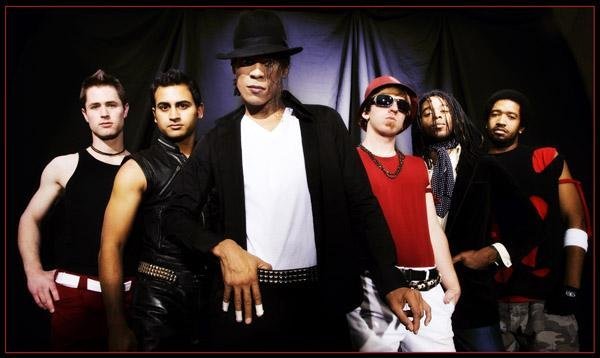 Thursday, August 20, 2009
Past Event
Thursday, August 20, 2009, 10 p.m.
Granada, 1020 Mass., Lawrence
18+ / $10
If the orgiastic media obsession with his death is any indication, Michael Jackson is going to be with us forever.
His presence in pop culture amplified exponentially following his death, making him now more alive in some morbid way than in the past decade of his life. He's completely crossed over into that Elvis/Howard Hughes/Sasquatch realm of urban legend immortality. The King of Pop is dead. Long live the King of Pop.
If you need any proof of Jackson's continuing reign from the underworld, look no further than the legion of impersonators and mock-Michaels springing up in his wake (zombie Jackson's will be crawling out of the woodwork this Halloween, just you wait).
The sequined-glove standard for these homage artists is the North Carolina tribute band, Who's Bad.
"I was a music senior at the University of North Carolina and I wanted to start a band that had a horn section that played a lot of funky tunes," says the founder of Who's Bad, Vamsi Tadepalli.
"I've always been a fan of Michael's music and had a bunch of his songs on the set list. I started listening to more and more of his stuff and thought there were so many of his songs that would be awesome in a live setting. I was like, 'Why don't we just do all Michael? No one else is doing it, someone should be doing it—someone should be paying tribute to his music.'"
That was 6 years ago, and the hunger for more Michael was palpable even then.
"Our first show sold out," says Tadepalli. "There were a lot of people doing the Michael Jackson impersonation thing for a long time, but there wasn't anyone out there playing the music live. We filled that void. We have top notch musicians and a high energy show. Word spread quickly. We've been going strong ever since."
Who's Bad will be playing in Lawrence on a Thursday, but just a block down Mass. St. that very same night, a locally grown celebration of MJ's music will thrown at the Neon Dance Party.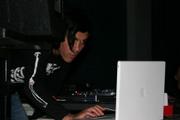 "Pretty much every Thursday night there's some Michael spinning at Neon," says DJ Stevie Cruz, co-host of the '80s influenced dance-a-thon. "If there's one way to get people going, it's to play Michael Jackson. He's a staple in any of my sets, no matter what kind of bar or what kind of night I'm DJ-ing. I even do metal nights and you can slip in 'Dirty Diana' or some of his tracks that have awesome guitar solos. He's the King of Pop. It's too bad he's gone, but he'll always be a part of people's lives through his music. His spirit is alive and well."
Cruz kept that spirit alive by dressing up as Jackson, fedora and all, as he performed an all Michael Jackson set a few days following the idol's death. He plans on keeping that musical memorial going in the future. "Since his death happened on a Thursday night, and Neon always happens on a Thursday night, I'm sure Neon will have a Jackson night honoring his birthday or his passing every year," promises Cruz.
If it was possible to embody that devotion to Michael Jackson here in Lawrence, that body would be Brad Hestand. This hair stylist and co-proprietor of Green Room Salon has been a massive fan for a majority of his life, having a box at home filled with Michael dolls and glitter gloves to prove it.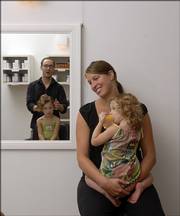 "For my 13th birthday, my sister bought me the 'Thriller' cassette," recalls Hestand. "It was the only cassette I had at the time, and it was all I would listen to through 7th grade. I would bungee chord my jam box onto my bike. People knew I was coming when they heard some MJ in the distance."
In 1984, a young Hestand made the pilgrimage by bus from Wichita to Arrowhead Stadium in Kansas City to see Michael Jackson at the height of his Michael Jackson-ness. "It was insane," says Hestand. "I had seen other concerts before, but never anything like that. There were lots of screaming, hyper-ventilating, crying girls all around me. The opening was a sword in the stone bit and Michael Jackson was King Arthur. All these people came out and tried to pull out the sword and couldn't. Then out comes Michael and he pulls it out. Laser beams came out of the sword and shot across the audience. At the end of the show there was a giant fireworks display. It was amazing."
Jackson's theatricality, according to Hestand, was both his genius and his undoing. "He envisioned himself as P.T. Barnum. He wanted to be the ultimate showman, so any media was good media. He started pushing some of those weird stories himself, like sleeping in the hyperbaric chamber. I think it kind of backfired on him," speculates Hestand, but he never lost faith and became a staunch defender of the man he identified with as a fellow outsider.
"It turned into rooting for the underdog because everyone would talk shit on him," says Hestand. "I was like, 'I like Mike! Nobody can change my mind!' It wasn't a cool thing with my friends. Most of them were like, 'He's weird' or 'Why do you do you still like pop music?' All of my friends were into The Cure and English New Wave. It wasn't cool, but I've never cared what other people think. I held strong in my love and conviction for Michael."
And on that most persistent and serious allegation, Hestand won't budge. "I don't believe he was a pedophile," says the super-fan definitively. "I believe he had a serious case of arrested development, and that could be construed as inappropriate around children. The sadness about his death was in the thought that he could possibly heave redeemed himself in the eyes of the public."
Those rumors and insinuations dogged even the Michael Jackson cover band.
"We were doing this back at a time when he was in court being accused of molestation, but we were out there just playing his music because we were fans of his work," says Tadepalli of the early days of Who's Bad.
"It was kind of tough sometimes. We'd be playing a show and the club would make posters saying, 'Don't bring your kid!' Totally tactless, you know? The unfortunate thing was it took his death for people to care."
Regardless of what he did or didn't do behind closed doors at the Neverland Ranch, Jackson's music still has a devout following.
"There's a lot of music that I'm into where the artist has a lot of weird stuff going on in their personal life," admits Cruz.
"It's just about the music to me. I just play what's good regardless of what the artist has done personally. His music is just classic, everything from the Jackson 5 stuff to his solo career. It's timeless."
More like this story on Lawrence.com