Wednesday, August 26, 2009
Within the marbled halls of the Spencer Museum, an acclaimed repository of fine art containing more than 36,000 pieces of priceless human expression, is a 10-foot-tall Japanese man in a diaper.
Situated nearby this glowering, semi-nude giant of ink and pigment is the photo of a drag queen being arrested and hauled away in a paddy wagon, her only crime that of being a drag queen in 1940s America.
Just around the corner, a portrait of a 19th-century British dandy in his most regal of fineries is sharing space with a grim snapshot of maimed and dying soldiers from the Vietnam War.
And in the midst of these strange artistic bedfellows, leisurely smoking and seeming to act as the super-fly MC of the proceedings, is the photo of a butterfly collared Wayne Newton. That's right — THE Wayne Newton.
This synchronized collision of images makes up the Spencer's latest exhibit, "xy," an exploration of the masculine mystique. It's a collection heavy on the Y chromosome that raises the question, "Are you man enough to handle it?"
Podcast episode
This edition of A.D.D. is an audio guided tour of the current "xy" exhibition at the Spencer Museum of Art with the curator Kris Ercums. "xy" explores themes of masculinity in culture and society. This edition of A.D.D. with host Jason Barr is best listened to while walking through ...
According to "xy" curator Kris Ercums, that's one of the questions being raised, anyway.
"First and foremost, it asks the question, 'What does it mean to be a man?'" Ercums says. "It's a more specific version of the very humanist question, 'What does it mean to be human?' I think it's a very pertinent question in society right now, especially as feminist studies have looked into issues of being a woman — but turning that lens back on the man.
"We're not trying to answer these questions but trying to be more evocative and creating dialogue. That's the role of the museum, being a forum where people can come and reflect, then go back and talk."
And "xy" is sure to provoke conversation. The show is culled entirely from the Spencer's considerable in-house collection, featuring works by modern provocateurs such as Andy Warhol and Robert Mapplethorpe side-by-side with 1st century Roman statuary and 16th century French portraiture. If you're particularly puritanical, be forewarned that the show isn't afraid to show you every aspect of what it means to be a man.
"A few of the works may be edgy to some," says Saralyn Reece Hardy, director of the Spencer. "But they're not outside the bounds. As with books and movies, not all exhibits are for everyone.
"The museum staff has approached the exhibit with great sensitivity. We are aware that there's content that may not be suitable for some audiences, and we've posted some viewer advisories, so you get to make the choice about whether you want to see it or not. We're very much about the idea of choice and engaged learning. We hope people see the Spencer as an active and dynamic place that asks questions, rather than a place that just dispenses information."
Photo Gallery
Selections from "xy"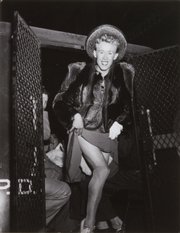 A new exhibit at the Spencer Museum exploring what it is to be a man.
Retired Kansas University professor Dennis Dailey, himself no stranger to the impassioned discourse sexuality can spark, thinks that a conversation about what defines a man is sorely needed.
"I think we're still fairly stuck in the traditional imagery of males and masculinity," says the sociology professor, whose human sexuality course at KU created a political firestorm in 2003 for delving into these very issues.
"Questioning it and raising issues about it, for lots of people, seems meaningless since most of the power is lodged in males and masculinity, so why even question it? When you have all the power — as is generally the case with males in our culture, although some of them don't feel all that empowered individually — there isn't much reason to raise a question about it. The power dynamic between men and women is still extraordinarily unbalanced."
Not that he doesn't see a glimmer of hope.
"My own sense of how the image of men has changed over my lifetime in academics is that the women's movement — women's liberation and feminism — really opened the door in many respects for males to ask questions about masculinity," Dailey says. "Especially with the advent of people studying androgyny, where there's a melding of both masculine and feminine, it opens up the possibility to escape those traditional expectations. Men can now question those notions of leaping tall buildings and catching bullets with their teeth — which is how you get your face shot off — and tap into the feminine side of being a man. Men are just as trapped by their gender roles as women, but that's changing. It's changing very slowly, but it's changing."
As a mother of soon-to-be-men, Saralyn Reece Hardy has a more vested perspective on these themes.
"I have three sons, and I like the way the exhibition expands the boundaries of the kind of stereotypical male," Hardy says. "It's personally revelatory to me, exploring issues of work, of play, of how 'clothes make the man,' and of how youth is valorized above all else. It opens up your worldview," she says.
Ercums says the ability to talk about sexuality and the body has a significant impact on male self-awareness.
"Gender studies have helped us understand how structures in society operate," Ercums says. "There's this idea of 'hegemonic masculinity,' of power structures and hierarchy, which are set up to not only subordinate other men but to put women in their place. You can see that system changing in surveys about how men in the United States, for example, participate in household chores," he says.
Ercums continues: "At the same time there's a recalcitrance to hang on to these very typical notions of 'a real man doesn't cry,' or 'a real man doesn't talk about what it's like to be a man' — which is the entire point of this exhibit."