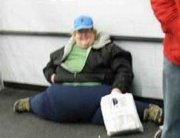 Oh, lord…People of Wal-Mart is a masterpiece of human tragedy. It's "The Grapes of Wrath" with gout and smothered in gravy. This site is a monument to suffering and societal collapse, capturing the exact historical moment when we as a species inch over the tipping point. Considering the mounds of KFC Double Down–fed trailer flesh being stuffed into stretch pants on display, screw the tipping point…we done broke the scale.
As you might have gathered, it's a site that posts photos of Wal-Mart patrons from around the country. The remarkable thing is, whether the photo was submitted from California or West Virginia, Wal-Mart shoppers are frighteningly identical regardless of geography. This site is a lot like Sorry I Missed Your Party in that you'll have to laugh through your tears.
Although, just so no one accuses me of elitism, I myself shop at Wal-Mart. I'm poor as hell, so I don't have much of an option. The option I do have, however, is to put down the McGriddle long enough so I can put on a shirt before I go shopping at Wal-Mart. Just. Sayin'.
To provide further balance, here's a Dose lambasting hipsters. Now enjoy (?) some samplings from People of Wal-Mart. (Hat tip to Fally!)
UPDATE! Via Amy and Travis Mason, now you can go on a sight-seeing safari for the People of Wal-Mart with this handy bingo game!
More like this story on Lawrence.com