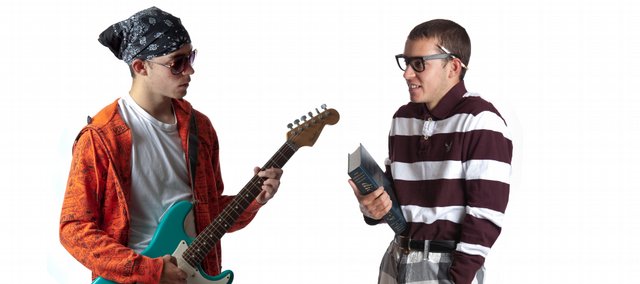 Saturday, August 29, 2009
Shane Reynolds doesn't consider himself either a rocker or a nerd. But for artistic purposes, the Kansas University freshman got to experience being both in a music video.
Now that project is vying for an MTV Video Music Award.
Reynolds joined nine high school friends from Chatham, Ill., to enter MTV's "Best Performance in a Pepsi Rock Band Video" contest. The group — which goes by the name Nerds in Disguise — was selected as one of five finalists from among 650 entries (all entries viewable here. Now the public has until Sept. 1 to decide the winner by voting online at pepsirockband.com.
"We started out with the least amount of views. Now we have the most views of any videos on the site. All the comments I've seen are just so positive," Reynolds says, noting that nearly 40,000 views have been recorded.
Contestants had a list of 40 songs they could choose from, and Lit's 1999 track "My Own Worst Enemy" best fit with the Nerds in Disguise concept. The video features the actors dressed as nerds who are attempting to crash a rock band's party. The hook is that both cliques are played by the same people.
"They have a feud where they won't allow the nerds to get into the party. They were kind of enemies. But Pepsi brings them together," Reynolds explains.
Visually, the rival factions are combined utilizing digital composites, which places the actors alongside their doppelgangers in certain scenes.
Reynolds can be spotted as a nerd in a green flannel shirt with taped-up glasses ("I'm the one who pours the Pepsi on my head," he says) and as a rocker with a long wig and white bandanna. He can also be glimpsed suffering a legitimate injury.
"The scene where I get my head knocked into the door, I actually got a concussion from that. I wasn't feeling too good the next day," he admits. "I tried to force my head as close to the door as I could. But the floor was real slick with Pepsi, so I slipped and ended up smashing my head."
That proved just one of the complications of making the video.
"The logistics of shooting are always difficult," says writer-director Matt Hartzler, a freshman at Amherst College in Massachusetts.
"We're dealing with adolescent males whose schedules are changing. We have to make sure all our cameras, tapes, lights, outfit changes, band instruments — and let's not forget the 300-plus cans of Pepsi we featured — are all in order. It's all worth it in the end, though."
Hartzler first learned of the contest from a high school teacher who suggested his classroom video-making prowess might make a good fit. The director and his cast/crew shot the piece with a Canon XL-1 over three days in July. By the next week the video was edited and entered.
Since the Pepsi was donated, the only money spent on the production was $40 for fireworks.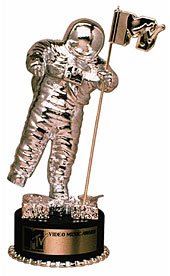 If Nerds in Disguise wins, the members will be invited to New York's Radio City Music Hall to receive a Moonman — MTV's equivalent of an Oscar or Emmy statuette.
"My Moonman would go straight to my dorm at Amherst College," Hartzler says. "I can't imagine putting it somewhere where I wouldn't see it every day. If we win, it'll be such a great accomplishment. I'm not sure I ever thought I'd have a shot to be a VMA-winning director, but here we are."
Curiously enough, neither Hartzler nor Reynolds are majoring in filmmaking. Reynolds is entering KU's School of Engineering, while Hartzler is "keeping my options open" but admits it will likely be something "very liberal artsy."
As for the chances of Nerds in Disguise triumphing in this Pepsi challenge, both students like the odds.
"All the videos are shot well. All the videos are edited well. That's a given," Hartzler says.
"It's the little nuances that separate us from the other videos. It's about the humor we use with some of the nerds doing goofy things. It's about the overall images of unity with the two different groups coming together for a great party. But personally, I think it's mostly about the replay value of our video. I truly believe that if you were to watch our video 20 times, you would catch something new with every single view."
The winner will be featured Sept. 13 in a national television spot.