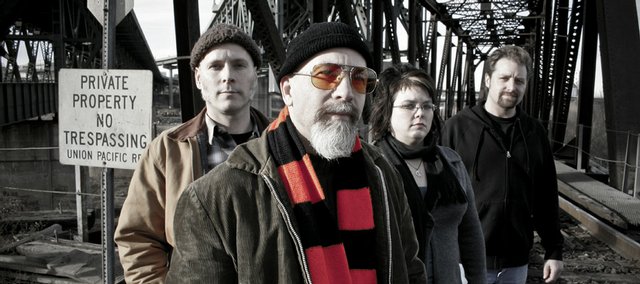 Past Event
Saturday, December 5, 2009, 6 p.m.
Liberty Hall Cinema, 644 Massachussets Street, Lawrence
All ages / Free - $10
One of Lawrence's fastest growing holiday traditions is often described as a "Grand Ole Opry-style show of Christmas music."
The Holiday Hoedown certainly shares the Opry's old-timey and bluegrass bent, as well as the medley of musicians rotating on and off stage.
But the Opry isn't exactly known for being a kid-centric romp — and that's exactly what the Hoedown's become.
"There's been a Holiday Hoedown population explosion," says Kory Willis of The Midday Ramblers. "There was just something about last year that seemed like a kid explosion."
Kid attendance could have something to do with the show's ticket price (free for 12 and under) and the early start time (6 p.m.). And — oh yeah — it's a Christmas party. This year's sixth annual party is Saturday at Liberty Hall.
"What's Christmas with a bunch of old people sittin' around staring at each other?" Willis says. "It's more fun to have the kids there."
The old people are still welcome to sit around, though. There's just way more to stare at than each other, says Katie Conrad. This year her band Maw will be on the stage, but Conrad caught the last five Hoedowns from the crowd.
"It's a great place to sip your Christmas cheer," she says. "They set up tables, and up front there's kind of a mosh pit. Over the years it's ranged from the Winfield hippies hippie-dancing to Christmas songs, to toddlers out there stumbling around and Christmas moshing, if that's possible. It's quite a fascinating mix."
"People just settle in for a great evening. It feels like we go until 2 in the morning but we end at a normal time. It's such a full evening and they keep things jumping that you feel like you've had a full night of entertainment," Conrad says.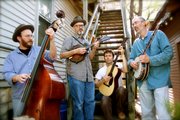 Mountain music
Like the Opry, bands don't just take the stage once in succession for longer sets. Instead, there's a grand piano that the bands share and several setups that stay on stage. The musicians come and go, performing with their own bands and others, playing just a few songs before others go on.
Things are shuffled up so frequently that even the shortest attention spans should stay captivated.
"If you don't like what you're hearing, just wait 15 minutes and you'll hear something else," Willis says.
The Hoedown set list samples from all kinds of holiday songs — classic carols like "Here Comes Santa Claus," harmonizing hymns like "Oh Holy Night," and a variety of more recent holiday songs from old time American music.
Organizer Betse Ellis, who plays fiddle with The Wilders, says the bands choose their own songs and play different ones every year — but they always include several family favorites that get everybody involved. When they play Charlie Brown's "Christmas Time Is Here," she says they bring "everyone under 4 feet" up onstage to join in.
"We also do 'Rudolph the Red-Nosed Reindeer,'" she says. "Of course, we do it with all the answering words and phrases the way you have to do it, with the whole room singing along and pounding their fists in the air. It's really, really fun — it's goofy but heartwarming."
But, for Ellis, there's one old-timey Christmas tune in particular that epitomizes the Holiday Hoedown.
"It's called 'Breakin' Up Christmas' and it's more common in the Appalachians,'" she says.
"It represents the old mountain tradition of going to visit your friends in the wintertime and maybe trekking over snowy foothills to get to someone's cabin or house and showing up and telling them, 'Hey, you're having a party! And we're going to play the music!' It was a way for them to make connections with people in the dead of winter," Ellis says.
"As a fiddler I love those old traditions. They're not as old as 'Joy to the World,' but they're a part of the kind of music I like to play so much," she says. "They're not all Christmas songs, but they're all holiday songs."
Wilders bandmate Ike Sheldon says the holiday music gives the band a welcome change of pace.
"In a lot of country and honky tonk music, you get a lot of drinkin' and cheatin' and partyin' and that kind of stuff, so it's nice to take a night off of that and just sing Christmas songs," he says.
Still, the Hoedown isn't all sugarplums and Santa Claus.
Says Willis: "We'll be doing 'Call Collect For Christmas,' which is really a sad bluegrass country song. It's hard to do a bluegrass set without somebody dying."
Conrad echoes that sentiment. Her old-time band Maw usually plays murder ballads and songs about drug abuse, adultery and the like.
"We've played kids shows before and it's taken us a little bit of effort to come up with appropriate material. A lot of instrumentals," she laughs. "Of course, (with Christmas music) we're not having any trouble. Although in one song Santa does get hit on the head with a candy cane. But NOT killed. Very important to establish that. You can't do that much damage with a candy cane."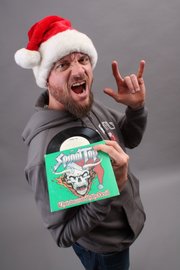 Bringing it all together
The Hoedown will also feature some music that's decidedly non-bluegrass, country or old-timey. Throughout the night, DJ St. Nick will be spinning blues, jazz, surf and "a little bit of everything really" from his collection of some 300 hundred Christmas LPs.
"For the most part I stay away from the things you hear a lot on the radio at Christmas time," says
DJ St. Nick, a.k.a. Nick Schmiedeler. "I love anything with a Christmas slant that's different — anybody that comes up with original ideas on the traditional music."
Among those likely to be heard: The Ventures, Beach Boys, Elvis and Andy Williams — but not likely anything by Mannheim Steamroller or chipmunks and barking dogs.
"There's just so much crap out there Christmas-music-wise over the years," he says. "I own them, just because I'm kind of a completist and if I see it, I'll grab it. But ultimately it's a matter of personal taste — what I call 'crappy' other people would call that the greatest Christmas music ever."
Betse Ellis says there's a good deal more to the show — but she can't talk about it.
"I'm being a little bit vague on purpose because there's going to be some surprises," she says. "The beauty of the in-between parts is they're not really planned. It's fairly open and improvisational in nature. But I'm not going to say anything more."
Ultimately, she says the whole show's about bringing people together and giving them an opportunity to cut loose.
"It's all about making connections. The music and the dance represents that connection," she says. "It's nice to do something that's really good for all the families. It's sweet but not saccharin sweet — it's just a pure, good thing."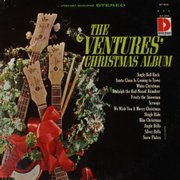 DJ St. Nick's Best Christmas LPs
• The Ventures - Christmas Album
• Brenda Lee - Merry Christmas
• Any Buck Owens Christmas recordings
• Ramsey Lewis Trio - The Sound of Christmas
• Gene Autry - Everyone's a Child at Christmas
• Frank Sinatra - Christmas Album
• Phil Spector - A Christmas Gift for You
• Vince Guaraldi - A Charlie Brown Christmas
• Esquivel - Merry Xmas
• Herb Alpert and the Tijuana Brass - Christmas Album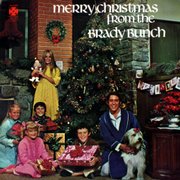 DJ St. Nick's Crappiest Christmas LPs
• The Brady Bunch - Merry Christmas
• Jim and Tammy Faye Bakker - Christmas with Love
• Mirror Image - Yuletide Disco
• Jimmy Swaggert - Christmas Spirit
• Slim Whitman - Christmas with Slim
• The Sinatra Family - We wish you a Merry Christmas
• Bobby Sherman - Christmas Album
• The Partridge Family - Christmas
• Engelbert Humperdink - Christmas Tyme
• The Pat Boone Family - Christmas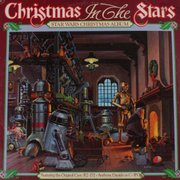 DJ St. Nick's Most Bizarre Christmas LPs
• Star Wars - Christmas in the Stars
• Mae West - Mae in December
• Grandma Moses - Tells her Christmas Stories
• The cast of Bonanza - Christmas on the Ponderosa
• Spike Jones - Christmas Spectacular !!!
• The Yobs - Christmas Album
• Nick Cave and the Birthday Party - Happy Birthday to the King
• Les Troubadours Du Roi Baudouin - Christmas in the Congo
• Captain Kangaroo - Merry Merry Christmas
• Don Ho - Christmas Album
More like this story on Lawrence.com