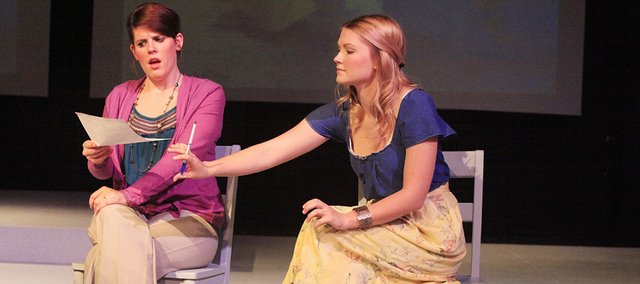 Past Event
Friday, December 4, 2009, 7:30 p.m.
Inge Theatre, 1530 Naismith Drive in Murphy Hall, KU campus, Lawrence
All ages / $10 - $15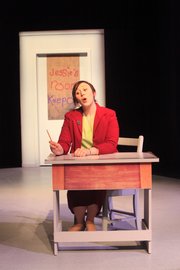 Cell phones, video games, Facebook.
E-mail, TiVo, Twitter.
Laptops, podcasts, earbuds.
SpongeBob ...
Talk about distractions. It's a wonder anybody can think straight these days. But what if you or a member of your family also had to deal with a diagnosis of attention deficit disorder (ADD)?
That's the premise of "Distracted," a new play from writer Lisa Loomer being staged by University Theatre.
"I began to believe many years ago that ADD is being overdiagnosed. A lot of children are getting Ritalin when it maybe isn't the best thing," says Jeff List, director of "Distracted."
"My father was an educational neuropsychologist. My mother runs an outpatient mental health facility. So I'm pretty familiar with this topic."
The comedy follows the plight of a mother whose unfocused 9-year-old son gets diagnosed with ADD. The production questions whether this conclusion is correct, or if the boy, Jessie, is no different than any other overstimulated member of contemporary society.
"This is Mama's journey - we never really know her first name," says List, a third-year KU doctoral student in theater.
"Her son is acting out, having trouble at school and in the home. And she wants to find out what's wrong. So she wades through all the information from all sorts of people and professionals. She has to figure out what is the best thing for herself and her son."
The role of Jessie is played by Hunter Alexander, an eighth-grader from Oxford Middle School in Overland Park. In some respects, it's a part he was born to play.
"I know a lot of the medications they talk about in the play because I've been through the same thing," Alexander explains.
"I actually have ADD, ADHD (attention-deficity hyperactivity disorder - now the more preferred term) and OCD (obsessive-compulsive disorder). I take three types of medication."
The 14-year-old actor says he started taking prescription drugs in sixth grade.
"The medication actually helps me stay on task. I used to take Ritalin. If I didn't have medicine I wouldn't be able to memorize all the lines," he says.
So far, this theatrical experience has been a positive one, he says. The role is challenging for Alexander because much of his dialogue is delivered offstage. But the biggest adjustment is working primarily with a cast and crew who are all older.
"At first it was kind of awkward because I didn't know anyone. But now they interact with me. They do some things I do, like video games," he says.
"Plus, I really like being onstage."
Balanced viewpoints
"Sometimes a play expresses one's many 'views' on a subject. It can be, in a sense, an argument between the voices in one's head," playwright Loomer tells the Journal-World.
"I understand the view of the psychiatrist in the play, the mother overwhelmed by information, the father who is reluctant to medicate and the neighbor who medicates her child. I also understand why the homeopath thinks that, as a society, we are too quick to medicate and who is wary of drug companies that make huge profits. I think people will see the play and draw their own conclusions, or, better, that it will ignite discussion."
A former actress and standup comic, Loomer is best known for her play "The Waiting Room," which follows three women from different time periods who each suffer from the effects of their societies' body modification practices - foot binding, corseting and breast augmentation. She also co-wrote the Oscar-winning film "Girl, Interrupted."
"Distracted" made its world premiere in 2007 in Los Angeles with a production starring Rita Wilson. A New York City production in 2009 featured "Sex and the City" star Cynthia Nixon.
Loomer says there are a number of challenges that companies have faced when staging the play.
"It is important that the tone be just right, a mix of humor and drama, and that all characters feel they are doing the best thing for the child. It is also a challenge to give the audience the visceral experience of ADHD, via the use of video, and, at the same time to not let the video overwhelm the story," she says.
Arguments and immediacy
For the KU production, director List employs a number of technical and compositional innovations. The minimalist gray set serves as a canvas for dual rear-screen still projectors and a video projector that casts images on the floor. (At one point the script of the conversation the actors are having gets projected on the rear screen, but it's transcribed in texting verbiage.)
"There are moments when the character breaks and they become the actor. Then there are points when the characters don't become the actor but still talk to the audience. Trying to clarify and keep the story straight with all these different elements going on is the challenge for me. This is easily the most tech-heavy show I've been involved with," List explains.
Because of the play's relevance to "today," List is comfortable dabbling with its intrinsic immediacy.
"I just added a video of the White House crashers (Tareq and Michaele Salahi) in tonight," he says. "This play has the ability to be very present for the next 20 years. Digital media is advancing in all sorts of directions all the time. That's what helps keep this present."
"Distracted" explores topics that will likely be cause for debate in both present and future productions.
"I'm happy when people are arguing in the parking lot," Loomer says. "The play raises many issues about how we view children, how we view 'normal,' as well as issues about our schools, our environment, and how we are affected by this 'information age' we all live in. I hope people will also see that the most important thing is the child ... not the label."