On the street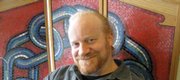 If you were to assume LJWorld.com or Lawrence.com are my home pages, think again.
Both my home and work computer open up into Yahoo. It's not that I don't value the sites of my company, it's just that if local news breaks on either of them, chances are I already know the scoop. But I have no inside track to Yahoo, which feeds me more all-encompassing and/or quirky info — and ultimately more story ideas.
Take this column, for instance.
It was inspired by Yahoo, the granddaddy of Internet sites — or at least the filthy rich uncle of Internet sites. And it is actually about the world's second-most visited URL.
Unfortunately, it's hardly a positive shout-out.
You thought the Mayan calendar is the harbinger of civilization's end? Nah. Look no further than Yahoo's just-released top Web search charts of 2009.
You would be hard-pressed to find a more vapid list. In a year immortalized by the worst recession in 70 years, it appears plenty of people have free time to look up things that don't matter. Keep in mind, this is not just the data revealing America's searches, but the entire world's. Apparently, other nations are as culpable as the U.S. in the dumbing down of society.
Number one on the search chart is not exactly a surprise: Michael Jackson. Sure, the dancer and sometime singer hadn't done anything artistically relevant in nearly two decades. But he did die unexpectedly ... and it was kind of mysterious, so it is forgivable that people got curious.
Not so debate-worthy are the rest of the embarrassing selections.
The honor of No. 2 (an apt term) goes to "Twilight." Why spend time reading about good books or movies when you can simply curl up with the most laughably annoying vampire saga since "Billy the Kid versus Dracula"?
At No. 3 is World Wrestling Entertainment. Not NFL. Not MLB. Not the obviously more deserving Kansas Jayhawks. No, the most popular online sport is one that isn't really a sport. Maybe it's time to organize a Fantasy Wrestling draft.
Actress Megan Fox at least boasts a hit project (the "Transformers" sequel) and supermodel looks to explain why she ends up at No. 4. Former pop star Britney Spears has neither to merit her inclusion at No. 5. But perhaps it's a backhanded positive sign to learn this ends Spears' four-year reign at the top of the Yahoo search list. Can you even imagine the Web traffic if she were to die mysteriously?
A Japanese anime character called Naruto that I've literally never heard of before earns the No. 6 slot. This marks the highest position a cartoon character has placed on the chart since Lindsay Lohan in 2006.
"American Idol" hit No. 7. With all the Paula Abdul, Adam Lambert and Ellen DeGeneres hijinks, it's a shock it isn't nearer the top. I wonder how many notches "Survivor" has plummeted?
At No. 8 is Kim Kardashian. Like fellow home-taping expert Paris Hilton, she's gone from being completely anonymous to utterly omnipresent despite having done nothing.
NASCAR earns No. 9. Speaking of non-sports ...
Rounding out the list at No. 10 is "RuneScape." What now? You mean there is another massively multiplayer online role-playing game (MMORPG) besides "World of Warcraft"? There just aren't enough hours in the day.
Oddly enough, in two years of writing Net Worth I have never once based a column on Yahoo.
Hard to believe. But if you doubt that, just do a quick search for "Net Worth Niccum Yahoo" ... on Yahoo.
— Entertainment editor Jon Niccum explores facets of pop culture that have established a unique niche on the Internet in Net Worth. He can be reached at 832-7178.