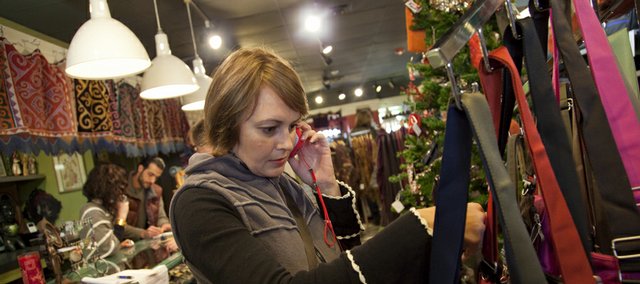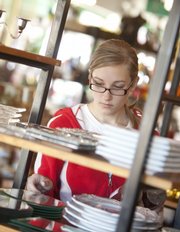 Seasonal splurging
You can support local artists and vendors at these upcoming Lawrence events:
• Holiday Sip & Shop, 6 p.m. Monday Dec. 7
• Lawrence Farmers' Holiday Market: Handmade and homegrown products are offered by regular market vendors one last time for the season. The event is 8 a.m.-3 p.m. Saturday at Knights of Columbus Hall, 2206 E. 23rd St.
• Van Go Adornment Holiday Sale: Support Van Go Mobile Arts with purchases. Gallery hours are 1 p.m.-5 p.m. daily through Dec. 23 at 715 N.J.
• Ladies of Lawrence Artwork Holiday Sale: LOLA will offer gifts from nine regular participants at a sale 1 p.m.-7 p.m. Sunday at Greenroom Salon, 924 1/2 Mass. They also will join the Van Go sale, noon-7 p.m. Dec. 20.
• Don't forget the Lawrence Arts Center Children's Holiday Shop.
Rachel Myslivy doesn't pay lip service to the "shop local" mantra. She lives by it every day.
"I'm a huge fan of The Toy Store," she says. "I'm also very dedicated to Stitch On Needlework and The Yarn Barn because my daughter and I — and my whole family — are very crafty individuals. And I love M & M Office Supply for kids' craft materials because if they don't have it, they can get it for you overnight."
For Myslivy, buying from locally owned businesses is all about transactions that go beyond retail.
"With all of those stores, you establish a relationship with the owners and the people who work there. For example, I get all my fabrics at Sarah's (Fabrics). I know who owns the place. I know the kind of person she is. It's a little more expensive than going other places, but if I have a problem and can't figure out how to sew something — like happened today — I can go down there and, because we have this relationship, they're always eager to help me."
Shopping exodus
Myslivy seems to be bucking a trend. According to Roger Zalneraitis, economic development coordinator for the city of Lawrence, more people these days are taking their shopping dollars elsewhere.
"We've seen a slight decline over time as to our ability to capture sales in the retail sector," notes Zalneraitis. "As of 2007, which is the last year we had retail market data from Poll Factor Reports, Lawrence was below average, capturing only 99 percent of the sales tax you'd expect per capita compared to the state and other cities."
That's down from approximately 111 percent in 2003.
"I think it's the Legends, mostly," Zalneraitis says. "For example, the numbers imply that Nebraska Furniture Mart has caused loss of retail sales for furniture within a 100-mile radius of that building. That's a huge area.
"The good news, up until 2008 and the recession, our restaurant business was doing quite well, and I think that's due to tourism and the students."
The retail mix
Jane Pennington, executive director of Downtown Lawrence Inc., says there are more opportunities for residents to shop locally. In the downtown retail mix, there are seven national chain stores, 16 regional chains and 81 locally owned retail shops compared to seven national, 14 regional and 76 local five years ago.
"I think Lawrence is doing a pretty good job of shopping local," Pennington says. "We still get resistance on the price and selection issue, however."
Service with a smile
Shop local advocates have heard the naysayers who complain about higher prices or lack of selection at locally owned stores compared to Kansas City or Topeka. Cheri Thompson, for one, is not buying it.
"I recently went in Weaver's and found a dress for the Stepping Out for Breast Cancer event, a dress for Christmas and a dress for the Hearts of Gold ball," Thompson says, adding that Weaver's arranged to have one of the dresses altered less than 48 hours ahead of an event.
"There isn't anything I want that I can't find in Lawrence," she says. "Those three dresses I bought were all on sale. I hardly buy anything that's not on sale. Besides, you have to stop and consider the price of gas and your time. That's worth something."
Myslivy concurs. "If I'm buying a toy for my daughter, for example, I really look at buying one or two quality toys versus a whole bunch of lower-quality things that may be less expensive."
Courtney Ricketts, owner of Nomads travel store, 725 Mass., strives to offer customers items they can't find in a mall or big chain.
"As far as merchandise goes, we buy from a lot of small clothing companies, and I get a maximum of six of each piece. And I don't re-order, so when it's gone, it's gone. I like things to be different and unique. I don't want you to be able to find it in a mall."
Spreading the wealth
Local business owners tend to spend their money with other local business owners in "pay it forward" fashion.
"I really enjoy Blackbird Trading Post because that's all one-of-a-kind stuff in there. It's a little treasure, I think. I shop for my husband's clothing at Sunflower. Weaver's has pretty much any kind of random thing you need," Ricketts says. "I never go to mall or big-box stores because I don't want to have something that everyone else has.
"To support the local economy is important, and downtown is so great. It's what makes Lawrence interesting, I think. And if we don't shop local, we're going to lose it."
Not just downtown
Myslivy is quick to point out that there are many local stores that are not located downtown.
"I think this is a common misconception. One need not shop downtown exclusively to support locally owned stores. I think the most important thing for people to do is, before they buy, think: 'Can I get this locally?' If so, then do. Not everything is economical to buy from local stores, but many things are, and it's worth expanding your horizons to find out what is and what isn't."
"For me, it's almost like an endurance test to go to a mall anymore," Thompson says. "That personal touch doesn't really have a price."