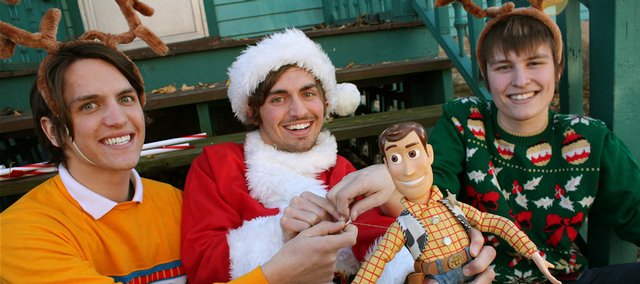 Thursday, December 10, 2009
This weekend, brothers Austin and Alex Ward of the Lawrence band The Noise FM will spearhead a toy drive for Douglas County Toys for Tots.
On Monday, they'll go back to serving local youngsters in a different fashion: substitute teaching.
"Overall, it's an awesome job," Austin says. "It's extremely easy money, and you literally read all day. Unless you're doing elementary school, and then it's like baby-sitting for eight hours. If you have a short temper, it's probably not your field."
In schools from Desoto to Eudora, Austin and Alex are quickly earning a reputation as the coolest substitute teachers on the block. Their students sometimes recognize them from the shows they attended the previous weekend — a happenstance that Austin tries to downplay.
"I've never gone out of my way to tell them I'm in a band, but they figure it out somehow," he says. "The very first time I subbed, a kid recognized me from the band because we had opened up for Ludo at The Granada. He said, 'Hey, didn't you open up for that Ludo show?' I was like, 'Yeah, quiet, do your work.'"
Alex, however, is more open to discussing his true calling with his students.
"I'll be like, 'Hey, we got an all-ages show coming up this weekend if you guys make it to Lawrence,'" he says. "One of the first times I subbed, there was a kid who had a Noise FM sticker on his planner. I thought that was pretty cool. It was hard to take that kid seriously after that."
Album Mp3s

Dream of the Attack
Dream of the Attic
The Noise FM – also featuring bassist Oliver Mosier — will headline "Noise for Toys" this Saturday at The Bottleneck, with support from local acts From Quiet Arms, Antennas Up, Rhythm & Soul and Avant National Guard. All proceeds will benefit Douglas County Toys for Tots, which will be on hand to accept monetary and toy donations.
Douglas County Toys for Tots Coordinator Mary Jones says that the organization served 1,900 local children last year and hopes to expand that this year. Toys for Tots is an all-volunteer organization with no paid administrators, meaning all monetary and toy donations go directly to children in financially stricken situations.
"We don't have any big corporate sponsors, so it takes a real community effort to keep Toys for Tots going," says Jones, a realtor for McGrew Real Estate.
The Noise FM has participated in a number of benefit shows since relocating to Lawrence from Fort Scott in August 2007. This weekend's event will mark the first time the members got the ball rolling themselves.
"We were looking for an element to make it stand out from being just another local show," Austin says. "We brainstormed some organizations that we knew about, and Alex chose Toys for Tots."
"Mostly because we could come up with a clever name," Alex adds.
In addition to the toy drive, the event will also feature gift bags, a raffle, an ugly-Christmas-sweater contest and possibly a Santa sighting.
"We're still trying to get a hold of (Santa), but we've got a suit for him to wear," Alex says.
It's already been a toy-ful 2009 for The Noise FM, which placed songs into two video games: Tap Tap Revenge 3 for iPhone and SBK 09 for European Xbox and PlayStation consoles. While they've yet to have a go at SBK 09 (it's only playable on European consoles), the band members got a thrill out of playing their song "Only Human" on Tap Tap Revenge 3. The game plays similarly to Guitar Hero, with players tapping out the beats.
"It was cool to see all the subtleties that they were able to pick out of the rhythm changes," Austin says. "We didn't make any money off that one. My Dad got really mad when he found out. He was like, 'Why would you do that?' I'm like, 'Why wouldn't we do that?'"
The members actually made a chunk of change on the other placement, helping them get back in the studio to start working on an EP follow-up to their 2008 album "Dream of the Attack." The group remains proud of that release, though they only play a handful of songs off it anymore.
"I've been happy with the way people have responded to it," Alex says. "We've sold most of the copies. It still holds up well. I'm just anxious for the next batch of songs."
Bad Santa
Christmas at the Ward household typically involved three main realms of toys: X-Men, Ninja Turtles and Nerf guns. Both brothers actually received superhero figurines from family members as recently as last year — though only Austin was young-at-heart enough to open the package.
"I've got quite the Batman collection in my room," Austin boasts. "We don't call them toys anymore. Now they're called statues."
Nowadays, the Ward brothers' playground is more age-appropriate: rock venues from Lawrence to Chicago and festivals such as South By Southwest in Austin, Texas.
In addition to bimonthly Midwest tours, the members performed three shows at SXSW last spring. They quickly realized that getting "discovered" at a festival known for being an industry feeding frenzy is a shot in the dark.
"Literally, everybody there is in a band," Austin says. "We had three shows and we walked around with our fliers and realized every person we were handing a flier to was handing us their flier."
Besides Austin scoring a Paiste cymbal sponsorship, the most exciting development at the festival was a chance encounter with tabloid diva Perez Hilton. The group's posse spotted a very inebriated Hilton heading into a bar and decided to follow him in.
"Perez is right next to us, just out of his mind, and there's literally four paparazzi dudes right in his face snappin' photos," Austin recalls. "Alex goes up and puts his arms around Perez with this big champagne bottle and just starts hanging on him. Perez doesn't know what's going on, and the camera guys are taking all these photos. Meanwhile, he slipped a (Noise FM) CD into Perez's back pocket with a flier."
Hilton never showed at the group's gig, but they did get some memorable footage of the melee — though they elected not to post it on their Web site.
"Alex's condition probably wasn't the best to represent the band," Austin explains.
Plus, that might mean Santa forgets the X-Men this year.