Thursday, December 10, 2009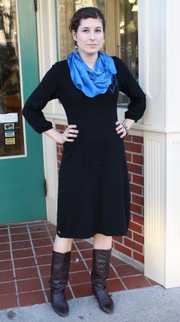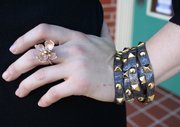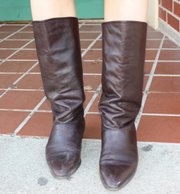 Bernadette Rose Zacharias
Age: 27.
Sign: Leo.
Time in Lawrence: Forever.
Occupation: Manager/Buyer at Goldmakers Fine Jewelry.
What were you doing when scouted: Working at the shop.
How would you describe your style: It's always changing, but I like to fall back on a '60s and '70s flavor. Cowgirl flavor in the summer, Italian glam in winter.
Who are your fashion influences: Right now, Bianca Jagger's deco/disco style, Parker Posey in "Party Girl," Diane Lane in "The Fabulous Stains," Madonna as Susan, and genies, goddesses and aliens.
Who are your fashion influences: My mom is always influencing me because she used to wear beautiful outfits when I was little.
What are your favorite fashion trends: Slouchy shapes, hats, big crazy necklaces and bracelets and metallics and sparkles.
What are your least favorite fashion trends: Tiny dresses with tall heels and no hose or coat when it's cold.
What would you like to see more of in Lawrence: Dressing up not meaning wearing less.
What would you like to see less of in Lawrence: Sweatpants with stuff written on the butt. 
People say I look like: My friend Nichole.
Tell us a secret: Baking soda is awesome. It absorbs odor when you have to skip a shower, and you can clean jewelry with it too.
SWEATER DRESS: Purchased at Nomads this fall for around $100.
SCARF: Purchased at ABC Home in NYC this summer for around $38.
JEWELRY: All the rings were made for me by hand by my father and the other jewelers at the shop. The honeycomb and the dogwood are mixed yellow red and white gold. The earrings are a design from a Polish architect named Plodowski. The leather bracelet is from Presh. All from Goldmakers.
BOOTS: Purchased at Wild Man Vintage this summer for around $20.