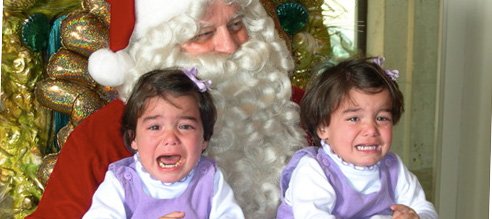 Friday, December 11, 2009
My daughter is asking many Santa-related questions.
She's 6, so she's trying to apply logic to aspects of this pervasive holiday icon that prove hard to explain.
"How come Santa doesn't get stuck in the chimney?"
"Why do reindeer fly?"
"Why don't some people believe in Santa?"
(Note: All actual questions asked this week.)
Since my policy is "don't lie," I find myself maneuvering around dispensing a precise answer. Often I take the psychologist approach: "Why do you think reindeer fly?"
Other times I sound like a spokesman for the Department of Defense: "I'll look into that and have an answer for you momentarily."
Keeping up this Claus facade is taxing, especially when I know that the painful, crushing truth will likely be delivered by her peers within a year or so. Then finally, no more questions. No more evasions. No more trips to sit on the department store Santa's lap.
This last ritual will be especially easy for me to ditch, however. It's because, quite frankly, I've always been a smidge creeped out by these folks. The dark comedy "Bad Santa" didn't help matters — hilariously offensive though it was. Also not helping is Sketchy Santas.
This new site offers visitors the opportunity to post pictures of themselves, friends and relatives posing with Santa. And many of these Kris Kringles are — what's the word? — sketchy.
Some of the Santas look distinctly irritated, inattentive, inebriated, irresponsible or insane. A few of these Santas appear as malevolent as that costumed monarch from the Burger King commercials
Others pictured seem harmless enough, but the children posing with them are the ones taking issue. Their reactions veer from terrified to confused to emotionally distraught. Nothing apparently makes kids less comfortable than forcing them to sit on the lap of a garishly dressed stranger smelling of holly and vermouth.
Favorite photos include a jovial Father Christmas with an identically dressed twin girl on each knee — both of whom are in sobbing hysterics. Another depicts a figure whose friendly beard and hat are augmented by a ghastly mask with black eye-slits and clown-like rouge. One commenter posts, "Oh dear God what is that thing?! It's Michael Myers from "Halloween"! Hey Michael, WRONG HOLIDAY!!!"
"Why don't some people believe in Santa?"
Maybe more people should. Because these images are proof that Santa is often terrifyingly real.
— Entertainment editor Jon Niccum explores facets of pop culture that have established a unique niche on the Internet. He can be reached at 832-7178.