Friday, December 11, 2009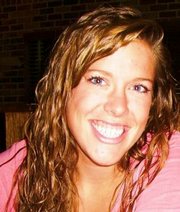 Lauren Pollimer, @LPmiller, student of accounting, KU Women's Rowing Team member, enjoys sports, cooking and shopping (when income allows)
How do you save money?
"I'm from Lenexa, so any Sunday that I can, I go home and beat my mom to the Sunday paper coupons. I make it a point to only cut those that I need, because those manufacturers have a sneaky way about putting some really colorful, compelling, but not-so-necessary ads in the paper.
From there, I'm a loyal Dillon's Plus ard user. The Plus Card doubles manufacturer coupons up to one dollar. It also adds up my points for savings at their gas station at 6th and Lawrence Ave. When it comes to groceries, I try to only purchase exactly what I need and nothing more. I go with a list in-hand nearly every time and I always bring my reusable sacks because you get a five cent refund for each one. I'm convinced that's going to help me in the long-run just as much as it will help the environment.
When my friends and I go out to eat, you better believe I scour the daily specials and coupon books. Buy-one-get-ones are obviously the ones to get most excited for.
My roommates and I also keep the house at a comfortable 65. I force them to believe this is comfortable. And since we're all on the rowing team, I force them to shower and use the laundry service at the boathouse."
How do you splurge?
"My biggest splurges happen on the weekends. I put my frugal antics on hold to enjoy time with my friends. Nearly whatever the group does goes. I try to limit my weekend spending to one twenty dollar bill to keep myself in check, but I've been known to pull out the debit card on those three in the morning Taco Bell runs. Whoops!
I believe in investing in a nice wardrobe, so I try to splurge on one classic each year so I can look like I have my stuff together when I leave Lawrence. I don't hold back on John Mayer concert tickets either."
More like this story on Lawrence.com