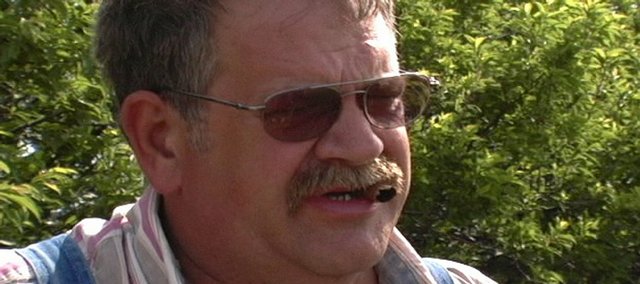 Friday, December 11, 2009
Movie
What's the Matter with Kansas?
***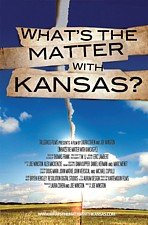 Taking the concept of Thomas Frank's book, Joe Winston's doc heads to the heartland to find out why working-class Americans usually vote Republican, and thus, according to the filmmakers, for policies detrimental to their pocketbooks. It's an honest portrait of memorable Kansans that avoids coming across as judgmental.
Author Thomas Frank was just another buttoned-down, Ronald Reagan-loving suburbanite when he headed to college in 1983.
The transition from Johnson County to Douglas County proved jarring. Within his first semester at Kansas University his ideals tilted to port. And it wasn't politics per se that spurred the shift.
"There was a moment I remember vividly to this day when I was in Lawrence and I heard on the radio they were playing The Sex Pistols," Frank says. "In Kansas City in the early '80s no one ever played The Sex Pistols. It struck me as so incredibly right. It was '(God Save the Queen)' with the singer's voice screaming 'No future!' It was a conversion experience."
Flash-forward to 2004 when Frank published "What's the Matter with Kansas? How Conservatives Won the Heart of America." Suddenly, the author was the one singing the refrain of "no future" — only this time it was in reference to his home state.
"Things for small farmers just seem to get worse and worse," says Frank, whose book spent 18 weeks on The New York Times Best Seller List.
"Small towns especially in the north and the west are hurting. Johnson County and Wichita certainly have a future. Garden City and Lawrence are going to do fine. But I was recently driving around north of Lawrence in farm country, and it's always very depressing to stop in these towns that you remember from not all that long ago as towns that were doing fairly well, and you walk down the main street and all the businesses are gone except for the thrift store."
That past, present and future of the state is now being debated in a new movie of the same title based on Frank's book. "What's the Matter with Kansas?" premieres at 7 p.m. Dec. 11 at Liberty Hall, and will play throughout the ensuing week — find showtimes here.
Anarchy in the KU
Although the experience in Lawrence helped shape him politically, Frank only spent a year at Kansas University.
"I loved KU and I loved Lawrence. Whenever I would come back to Kansas I would spend most of my time in Lawrence. But at some point I just decided that I had to see the world. So I picked the University of Virginia, and I knew nothing about it other than the buildings had been designed by Thomas Jefferson," he says.
Frank eventually moved back to the Midwest to attend the University of Chicago, where he earned a Ph.D. in history. But when his wife landed a job in Washington in 2003, he decided to tag along.
The move has served his career well. His latest book, "The Wrecking Crew: How Conservatives Rule," was published in 2008. He also is the founding editor of The Baffler, a contributing editor at Harper's and a Wall Street Journal weekly columnist.
Is there any chance he'll one day permanently return to Kansas?
"We've talked about that many times. I love visiting there. And my children love Kansas City. But I don't think I'm going to move back anytime soon," he says.
As for whether he likes living in Washington, Frank says, "Not really. It's the anti-Kansas."
The documentary explores how the Sunflower State gradually transformed from an outpost of radicalism to a stronghold of conservatism.
"It never occurred to me that you could even make a movie of this," says Frank, who appears in the film. "They took the main idea of the book and some of the characters, then went off on their own tangent."
'Affection and curiosity'
Filmmaker Joe Winston was living in Chicago in 2004 when he saw the author speak at the launch of his book tour.
"At that time I was just totally spellbound because he was the only one who was saying anything that made sense about what was going on in the country," recalls Winston, director of "What's the Matter with Kansas?" "What made me want to do a movie was this notion that if you want to understand what was going on in America, you had to come to Kansas."
Winston had never stepped foot in Kansas prior to embarking on the project. The Chicago native recalls thinking "it was kind of a fictional place to me like it is to a lot of Americans."
With no studio financing, Winston and his wife, producer Laura Cohen, assembled a crew and headed to the heartland. They initially met with some resistance.
"Most people in America, when you tell them you're making a documentary with politics as part of it, they ask, 'Is this going to be like Michael Moore?' They were not looking forward to that project. But that's not the way I make any of my movies. We didn't use a voiceover narrator. We didn't have any experts. We didn't do any ambush interviews or try to trick anybody. We came to Kansas to learn. We had genuine affection and curiosity for all the people we met," he says.
The memorable subjects featured in the 90-minute movie include:
• Angel Dillard, a mother of two, lifelong Republican and Right to Life activist with a Dickensian hard-luck story.
• Brittany Barden, an 18-year-old go-getter who is shown actively campaigning to re-elect former attorney general Phill Kline.
• Donn Teske, president of the Kansas Farmers Union, who is seen lobbying before Congress. Winston describes him as "a hilarious, fascinating guy who is like the last of the progressive populist farmers."
Teske will be a guest speaker at tonight's premiere. (Winston jokes, "I actually had to promise him a bottle of whiskey to get him out there.")
Winston believes allowing the subjects to be themselves was far more revealing than other tactics.
"It would be easy to camp out in front of Fred Phelps' Westboro Baptist Church and make the right wing look ridiculous. Other filmmakers have attempted that. Aside from it being boring, what's the point?" he asks.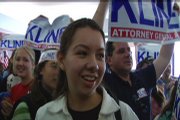 "Neither Laura nor I had ever spent time with conservative Christians who home-schooled their children and rallied around things like the abortion issue. ... Even though we might have very different feelings about abortion or religion, we had a lot in common as people. By walking a mile in their shoes, I got to see — and my crew did and, hopefully, viewers of the movie will see — it's not so alien. It gave me hope that we can all talk to one another."
Leading film critic Roger Ebert wrote in his review of the picture, "What's interesting is that every single person in this film is seen as themselves, is allowed to speak and seems to have a good heart. I've rarely seen a documentary quite like it. It has a point to make but no ax to grind."
Regional reactions
So what exactly is the matter with Kansas, anyway?
"I used to have a much more pat answer than I do now," says Frank, who relocated to Washington, D.C., shortly after his book got published. "But I would say it's the culture wars. Look at what happened to (slain abortion doctor) George Tiller."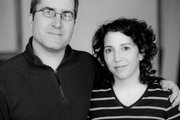 Winston adds, "What's the matter with Kansas is what's the matter with America, in that we have a government and a system where too many people don't have a voice. Everybody's got a different way with trying to grapple with that problem. For some people the most sensible thing to do is stand out in front of an abortion clinic because they think that's the way they can make a difference."
The filmmakers say their work has elicited different reactions depending on what region of the country it screens.
"So far, people in the Midwest 'get it' the most. The New Yorkers thought we were on a bit of a safari. Kansas seemed very, very far away," Winston recalls.
"At the New York screening, somebody got up from the crowd and asked the 'luminaries' who were onstage with us, 'How do we teach these people from Kansas?' I'm thinking, 'It's not the people from Kansas who need to learn, it's you.'"
"What's the Matter with Kansas?" movie - theatrical trailer from WMKMovie on Vimeo.