Sunday, December 13, 2009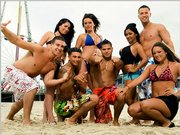 If you've not heard of "Jersey Shore," you're either very lucky or are very unlucky because you've been trapped in a dungeon.
It's a new show on MTV that follows a bunch of orange skinned neanderthals and has single handedly lowered our nation's IQ by many magnitudes. Imagine a hot tub filled with Ed Hardy champagne in which "Keeping Up With The Kardashians," "Leave It To Lamas" and "The Real Housewives of Atlanta" are all having a coke orgy, and you're still nowhere near the levels of venereal disease this show achieves.
Here's a CBS News clip detailing the awfulness:
You'll notice that, aside from referring each other by the "loving term" of "guido," they each have nicknames like "The Situation" and "Snookie." If you feel left out from all this soul crushing stupidity, fret no longer!
We have all been blessed with the Jersey Shore Nickname Generator! Just plug in your real name, click "Fist Pump," and it'll spit out your very own nom de douche!
Mine is "G-Train." Sweet.
What's your Jersey Shore Nickname?
More like this story on Lawrence.com