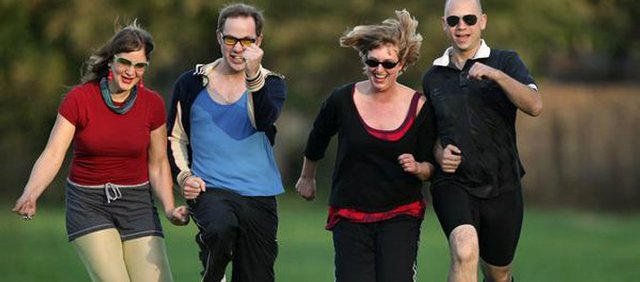 Monday, December 14, 2009
Album Mp3s

Science is Magic
The Kinetiks new album "Science is Magic" is a bricoleur's rock and roll manifesto.
Recorded and mixed by Stuart Sullivan (of Meat Puppets fame), these eight tracks are a carnival-ride fusion of disco, '80s pop-punk, darker '90s themes. It's a fun, synth-filled distortion fest that channels a Pixies-esque modulation between loud and soft, invitation and rejection. The melodies are as contagiously idiosyncratic as the music is straightforward — everything centers on Spencer Goertz-Giffen's range of vivid vocal personas and penetrating electric guitar work.
The first track, "Planet Future," begins with a call-to-arms dialogue between bassist Phil Gratz and drummer Jason Kniep. Like a giant apocalyptic machine coming to life, "Planet Future" builds quickly, climbing fifths until, at once, Goertz-Giffen's heavily punctuated guitar pokes through, driving the song down — as if being dropped from a plane — and tangles all the way to earth with Rani Waugh's soaring psychedelic synth lines.
Past Event
Friday, December 18, 2009, 9 p.m.
Bottleneck, 737 New Hampshire, Lawrence
All ages / $5
Another highlight, "Dig a Hole," combines wall-of-sound guitars with a sampling of '70s disco drum loops, expertly elaborated on by Kniep, as well as bass leads from Gratz, who kicks off the track with a promise of straightforward, naked velocity — music as time. Like many songs on this album, "Dig" demonstrates a deft sampling of decades, styles, and motifs. It snaps back and forth from syncopated disco moments dominated by Waugh's synth work to sparse '80s pop-punk instrumentation and Goertz-Giffen's laser-like vocals.
More than any of their previous recordings, this album taps into The Kinetiks' distinctive live-show energy. Still, you'll need to catch them in their element to truly appreciate the band's spirit. The release show for "Science is Magic" is Friday at The Bottleneck.
More like this story on Lawrence.com