Monday, December 14, 2009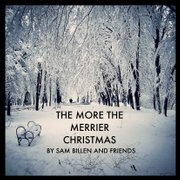 "The More the Merrier Christmas" is a new compilation by Lawrence musicians organized by Sam Billen, available for FREE download in its entirety here...
Tracklist
1 "In The Bleak Midwinter," by Andrew Connor

2 "Cross-Country Skis," by Nathan Philips

3 "O Come, O Come Emmanuel," by Sam Billen

4 "Hark! Hark!," by Joshu

5 "Star Carol," by Half-Handed Cloud

6 "Have Yourself A Merry Little Christmas," by Andy Smith with Brian Lee and his Orchestra

7 "Through the Snow," by Nathan Philips

8 "A Year Of Snow," by Taylor Hollenbeck

9 "Silent Night," by Joshu

10 "Auld Lang Syne," by Sam Billen


Miss last year's Christmas compilations? Download them here ... also for free!
More like this story on Lawrence.com