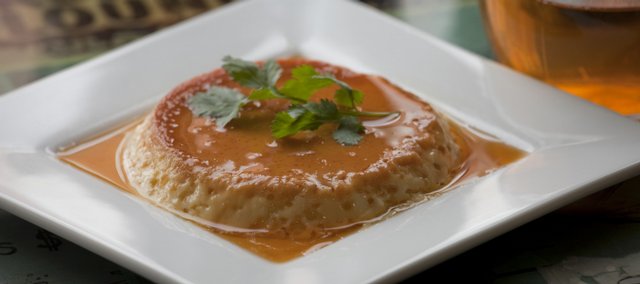 Wednesday, December 16, 2009
Usually, Ariel Hecke stares at a menu not knowing where to begin. She squints at the type, reads all the descriptions and agonizes over whether to bother the server about the possibility of beef broth lurking in the soup of the day: Is that minestrone truly vegetarian?
But this week when she sidled into a booth at Tenth Street Vegetarian Bistro, pulled out a menu and stared at it, she was clueless where to begin for a different reason.
Choice. And lots of it.
"It's really nice because usually you have a menu and you have to search for ... anything that you can eat, which isn't a lot," Hecke says.
The bistro is the first full-service, fully vegetarian restaurant in Lawrence in years. No meat is stored in the kitchen save for the faux kind — chicken, fish and steak. About 40 percent of the menu is vegan, as in devoid of any animal ingredients or byproducts.
The restaurant is the brainchild of Nancy Nguyen. Nguyen has long served vegetarian and vegan clients at her flagship restaurant, The Orient Vietnamese Restaurant, 1006 Mass. She says those customers encouraged her to open a vegetarian restaurant rather than having her hands in three "meat-heavy" establishments: The Orient, Angler's Seafood House, 1004 Mass., and Drake's Diner, 125 E. 10th St. She decided to close down Drake's and give her customers "their own restaurant," completing the transition in early November.
"I had three restaurants, and the most customers told me, 'Nancy, why don't we open one (vegetarian restaurant) because you have all three meat restaurants,'" Nguyen says. "I said, OK, I'll try."
She then asked Kevin McGee, who had been working at Angler's, to create a varied menu using the faux meats that were popular among her Orient customers. The result is a menu that runs the gamut from falafel to vegan fish and chips to gnocchi made in-house.
"When I create menus, I like to keep it pretty varied unless I'm at a specific restaurant with a specific kind of cuisine that we need to follow," says McGee, who, before moving to Lawrence, worked in the restaurant business in San Francisco. "I try to keep it pretty diverse — it helps people decide more easily on what they would want, I think."
Well, unless you want pretty much everything on the menu. Eva Helsel, a vegan living in Kansas City, Mo., has driven in just to eat at the restaurant three times, and has been alternately trying all of the restaurant's vegan offerings. She calls the restaurant's vegan variety "awesome."
"I don't see a lot of the faux meats, as much. A lot of places, they have the vegan and vegetarian options, but they don't have the fake meats," Helsel says. "It's really exciting and everything here is really good, everything that I've tried."