Thursday, December 17, 2009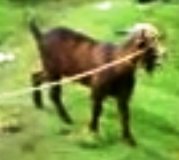 I know this is about a week old, so keep your "FIRSTIES!!!" cudgel sheathed. Granted, a week in internet time is about a century, but think of it as a ripening period. This Goat vs. Usher mashup has fermented into a fine, blue-veined viral cheese.
You may recall this goat from an earlier Daily Dose, Fun With Goats. Thanks to the nifty YouTube Doubler, he gets to jam with Usher. I'm not sure if the goat is elevated to Usher status or Usher has been busted down to goat status, but either way, it's like chèvre for your ears.