Thursday, December 17, 2009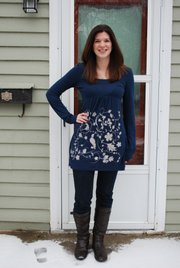 Kaley Silva
Age: 23.
Sign: Cancer.
Hometown: Kansas City, Kansas.
Time in Lawrence: Five years, off and on.
Occupation: I am a KU student working towards an undergraduate degree in psychology.
What were you doing when scouted? I was walking toward campus — up to the library. I was continuing work on my psychology research project.
How would you describe your style? Although my style changes, my daily-wear stays comfortable and casual. My dress clothes also maintain a level of comfort and practicality. I believe it is important to look appropriate and presentable.
What are your current favorite fashion trends? Dresses with pockets fit into my style-mantra. Such small details make clothing more appealing. Pockets add a level of accessibility. For example, on the previous season of "Project Runway," one designer created pockets for her dress. I thought it was a great idea that many women can appreciate.
What are your least favorite fashion trends? I think skinny jeans on men are an unflattering choice. There is a correct proportion and fit for every body type. In terms of women, although I think leggings are a useful trend, they must be paired with an adequate top or blouse. My sister's school even posted new regulations: "Leggings alone will not suffice."
What would you like to see more of in Lawrence? I'd like a forum or storefront that provides local goods from up-and-coming merchants. This would expose their designs and create a wealth of options, other than the readily available, mainstream labels.
What would you like to see less of in Lawrence? In light of winter approaching, I want to see less inappropriate choice of outerwear. I think a coat or jacket should be a cohesive part of your outfit, not an afterthought.
Who are your fashion influences? My mom is a hair stylist, and she always let me be her hair model. Together, we would discover new styling techniques. Growing up, I was allowed to try unique hairstyles while many other parents would not grant their children such freedom of choice and expression. From my mother, I have learned to experiment and be an individual.
People say I look like: Sandra Bullock. It's the hair.
Tell us a secret: I wear the same necklace, earrings and ring every day. I only change my jewelry on very special occasions.
Earrings: Silver teardrops, December 2008, gift.
Necklace: Silver turtle, June 2009, gift.
Ring: Silver/Diamond, June 2002, gift.
Boots: Old Navy, September 2009, $40.
Jeans: Gap, October 2009, $70.
Dress: Topless California, December 2007, gift.
More like this story on Lawrence.com