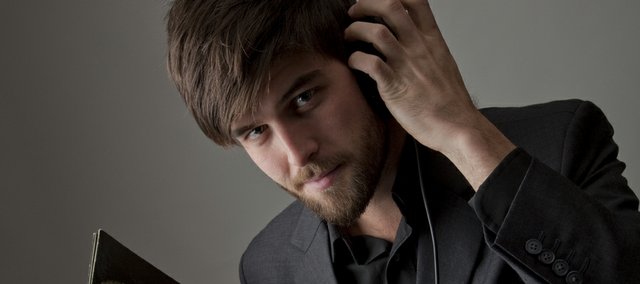 Monday, December 21, 2009
One song you can count on hearing at nearly every New Year celebration in the English-speaking world is Robert Burns' "Auld Lang Syne." But that's only one song, a mere four minutes. How does the exacting host sculpt a soundtrack for an entire party?
At age 16, Andrew Witt started spinning records for middle school dances. Now, the 25-year-old Lawrence resident is a partner in Mobile Sounds, supplying music and entertainment for large-scale events in the greater Kansas City area.
While hipsters rely on club DJs to break new music, Witt's clients look more for the tried and true. "For private parties, especially the weddings and corporate events, you have to relax people with rhythms and choruses they know," Witt says. "Sure, you should introduce them to something new, but always have a couple favorites in your back pocket."
But don't dust off the Rick Astley just yet. Just because a tune is familiar doesn't mean it will trigger a stampede to the dance floor. Why do the opening notes of Aretha Franklin's "Respect" immediately raise butts from seats while Astley's hits often elicit yawns?
For Steve Wilson, long-time manager of Kief's Downtown Music, the difference is obvious: "'Respect' is a better song because we hold certain truths to be self-evident. Beyond that, the groove is deep, not facile. The lyrics are felt, not perfunctory. The musicianship is distinctive, not anonymous."
While a good song is, of course, a matter of taste, certain songs reliably have the power to set bodies in motion (think "Girls Just Wanna Have Fun" or "Funky Cold Medina.") Salt your playlist with proven floor-packers. Slow songs, too, are an important seasoning. A good party has an organic ebb and flow.
"It's all about flow," Wilson says. "Relentless Ibiza dance tracks just fatigue people. The better and broader the compiler's taste is, the happier I am as a groover. Narrow-casting is for punters."
The right songs, the right mix, the right flow ... If it all gives you a headache, Andrew Witt offers some sage and soothing advice: "At the end of the day, it's a party — loosen up and have fun."
And, as a last resort, you can always hand off the musical duties to some of your party guests. Isn't everyone a DJ nowadays?
Ten off the top: help for your play list
Steve Wilson, manager Kief's Downtown Music
• Rolling Stones, "Rocks Off"
• Funkadelic, "Take Your Dead (Expletive) Home!"
• David Bowie, "Suffragette City"
• B-52's, "Rock Lobster"
• La's, "There She Goes"
• James Brown, "There Was a Time"
• Eagles of Death Metal, "I Really Wanna Be in L.A."
• OutKast, "Ms. Jackson"
• Sex Pistols, "God Save the Queen"
• Strokes, "The Modern Age"
Andrew Witt, owner/DJ, Mobile Sounds
• House of Pain, "Jump Around"
• Lady Gaga, "Bad Romance"
• Haddaway, "What Is Love?"
• Violent Femmes, "Blister in the Sun"
• DJ Jazzy Jeff and the Fresh Prince, "Boom! Shake the Room"
• James Brown, "Get Up Offa That Thing"
• Run DMC, "It's Tricky"
• Junior Senior, "Move Your Feet"
• Salt-N-Pepa, "Push It"
• The Rolling Stones, "Sympathy for the Devil"
Tom King, Lawrence writer
• Aretha Franklin, "Respect"
• KC & the Sunshine Band, "Get Down Tonight"
• The Troggs, "Wild Thing"
• Brick, "Dazz"
• The Kinks, "All Day and All of the Night"
• Funkadelic, "Get Off Your (Expletive) and Jam"
• Marvin Gaye, "Got to Give It Up"
• Junior Walker and the All Stars, "Shotgun"
• Incredible Bongo Band, "Bongo Rock"
• Adolph Hofner and His San Antonians, "Cotton Eyed Joe"