Monday, December 21, 2009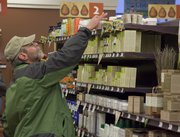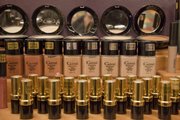 For the past 10 years, April Sweany has been just as conscious about what she puts on her body as what she puts in it.
"I don't really like to put chemicals on my skin, and I do the same with food, too," she says.
After time spent working on an organic farm, the Lawrence resident decided to not only eat as organically as possible, but also to extend that policy to her skin and hair care products. At least as much as her budget allows, she says, standing in the shampoo aisle at Community Mercantile, 901 S. Iowa.
"I usually buy my shampoo and lotion here ... all my face soap and everything, I try to buy organic or natural," Sweany says. "It depends on what my income is at the moment, but usually I'll buy mid-grade stuff. Not like $30 cream, more like maybe $20 is probably where I top out."
In the past few years, the desire to look good has intersected with a desire to feel good about products, as evidenced by the large number of natural or organic products creeping out of the food section and into the hair care, skin care and makeup aisles.
Tyra Kalman, Community Mercantile's wellness manager, says this trend started the same way it did in food — with more than a few folks squinting at package labels.
"Our customers are so smart ... they'll come to me and say, 'I don't want this in my product. What do you have? Do you carry stuff that doesn't have this in it?'" Kalman says. "It really boils down to being your own consumer advocate."
The things customers tell Kalman they don't want to buy? A few commonly mentioned ingredients include sodium lauryl sulfate, parabens and cocamidopropyl butane.
"Really, it's like in this industry, your dollar is your vote," Kalman says.
And sometimes that vote can change the way companies do business. Kalman says body care maker EO — though using ingredients customers liked — happened to be using preservatives that gave some consumers pause. The company got enough feedback from customers and retailers that it spent nearly two years reformulating its products.
And it's not just fewer chemicals some customers want, says Andy Wagner, Health Market manager for Hy-Vee, 3504 W. Clinton Parkway. Wagner says he also sees many customers who have specific needs that go beyond big, unpronounceable chemicals.
"When I started working in the health market, it was like, 'OK, so it's natural and organic and stuff,' but really it's a lot more than that," Wagner says. "You get people with dairy allergies or animal rights concerns or gluten allergies."
Wagner says that in the two years he's been interacting with customers in the Health Market, he has changed his own product usage, based on what consumers have asked for and told him.
"If you have enough people coming in who want to start talking to you about stuff they feel is important to them and telling you why you shouldn't be using this or shouldn't be using that or eating that or putting that on your body or whatever, it's fascinating," says Wagner, who switched to an aluminum-free deodorant after being convinced by customers to ditch traditional antiperspirants. "And I've certainly learned a lot."
That goes for the product producers as well. Terri Schwager runs Lawrence-based Anthony's Beehive and helped develop the company's lotions and lip balms. In creating her own products, she says she learned more about what goes into commercial ones and what she wanted to keep out of her products.
"There were stores that would not carry our product if it included parabens," she says of a common class of preservatives that has been shown to disrupt the body's endocrine system. "I'm a nurse, I don't want to put toxic (ingredients on my skin). The more natural it is, the better."
Kalman says that there are plenty of resources for consumers to do their own research, from the Environmental Working Group's Web site (ewg.org) to "A Consumer's Dictionary to Cosmetic Ingredients" by Ruth Winter. But, she says, if you'd rather not consult a dictionary every time you want to buy a product, she has an easy rule of thumb, whether the product is labeled natural, organic or with no fancy wording.
"The basic principle that I go by is I don't want to put anything on my body that I can't put in my body," she says. "And that's kind of where everything starts."