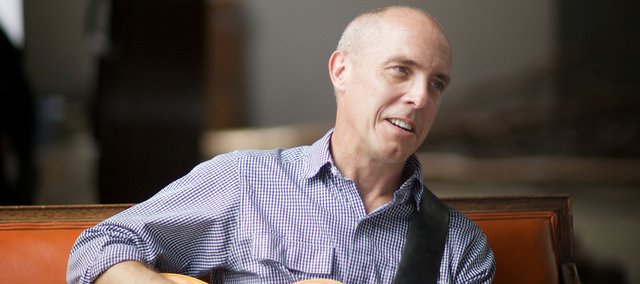 Saturday, December 26, 2009
In the song that made his career, Freedy Johnston sings the lyric "seven years disappear."
Nearly two decades later, Johnston knows that feeling all over again.
"Right now things are really OK, but in 2003 they were really not OK at all," says Johnston via phone from his home in the East Village of New York City.
"I was just going through the usual things people like me go through: trying to be a musician and not making enough money and being married and moving and not being able to finish my record," explains the 47-year-old songwriter. "I'm not looking for any sympathy, because everybody else has a much worse job."
The songwriter who scored a hit with the song "Bad Reputation" used to have a good reputation for putting out records every 18 months. But the last seven years have been a struggle for the Kansas musician, who attempted to self-finance a record in the midst of owing a sizable chunk of back taxes to the IRS.
"It was not any deceptive thing — it just happens to so many artists and musicians," he explains. "You just don't know what the hell you're doing, and you lose track."
Eventually, Johnston came to the conclusion that he was no good at producing his own records. He hired Nashville producer Richard McLaurin, and the 11 songs that compose "Rain on the City" finally took flight.
"It's not like you're going to do 'Born to Run' every time — you just gotta try to get it out," Johnston says in hindsight.
"It gets into your head, sometimes, that you have to do something completely profound every time," he adds. "It's not like you shouldn't try, and you shouldn't hope to be mind-blowing every time, because some people can do that — guys like Prince or Stevie Wonder."
Runnin' down a dream
Johnston is a prolific singer-songwriter with a voice so distinctive that it effortlessly rises above the competition. Since moving from Lawrence to New York City 22 years ago, he's attempted to forge a career in the mold of his idols: Paul Westerberg, Tom Petty and Elvis Costello.
"I'm not at that commercial level, but I look to them for guidance on how to lead a career — just always trying your best and expecting that you can do something totally new," he says. "I could see Tom Petty putting out his next record and blowing everybody away and having it be his greatest record. He's shocked us before."
"Rain On the City" certainly ranks amongst Johnston's finest efforts (it's his eighth proper album, not counting live efforts and B-sides collections). The album encompasses everything he does best: effortless hooks, impassioned vocal performances, biting lyrics and melodies that Westerberg and Petty would want to pinch.
For the last two decades, Johnston has been lucky enough to pay the bills with music. It's a privilege he doesn't take for granted.
"I'm just really grateful," he says. "There's stuff to complain about in the music biz — there really is. It's comical how some of the relationships are set up. But you can't complain about it, because you're so damn lucky to be in it."
These days, Johnston has the air of a performer who's just happy to be back on his horse after a long layoff. He'll hit the road for scattered dates this month and January, taking advantage of the fact that he has makeshift bands in four different cities: Wichita, Austin, Tex., Madison, Wis., and New York City.
Johnston most recently spent a year in Austin, playing regular gigs at a venue called Momo's.
"If you're a musician, there are two towns you have to get to know: Nashville and Austin," he says. "L.A. you're going to get to know regardless."
Past Event
Saturday, December 26, 2009, 8 p.m.
Bottleneck, 737 New Hampshire, Lawrence
All ages / $16
No reputation
Though "Bed Reputation" and his ensuing hit "On the Way Out" earned him name-recognition, Johnston was never known as a musician when he lived in Lawrence. He moved to NYC at age 25 and released his first record "The Trouble Tree" at age 30.
"I played a few gigs with one band (in Lawrence), but we broke up because we couldn't get along," Johnston recalls. "When I put out 'The Trouble Tree,' everyone in Lawrence went: 'What? You're a musician?'"
Johnston was actually working diligently on music during his five years in Lawrence, but mostly on a four-track in the solitude of his apartment on Massachusetts Street. Some of those recordings surfaced on his 2004 odds-and-ends collection "The Way I Were."
"I often have misty memories of (Lawrence) being a golden, naïve time in my life — making little songs on my four-track and dreaming of stardom," he says. "I'd come home from work and work on a song for days and mix it and then I'd wake up in the morning and listen to it and say, 'Oh god, that (expletive) sucks; that's the worst song I've ever heard. And I'd put it away and start another one."
Though he didn't perform much in Lawrence, Johnston did partake of the culture at his doorstep. He remembers the bands Bad Brains and The Replacements crashing at his apartment, as well as encounters with Allen Ginsberg and William S. Burroughs.
"(Burroughs) was a quiet man, but really fascinating when you talked to him," he says. "It was beautiful to be in the presence of someone who was clearly doing the job they were born to do — who looked and acted and talked and thought like a writer."
Last year, Johnston returned to Kansas to spend a couple months in Wichita (he was born and raised in Kinsley, near Dodge City). He connected with multi-instrumentalist Wayne Gottstine of Split Lip Rayfield to play a series of duo shows.
"I love his songs," says Gottstine, who will join Johnston at the Blue Lounge in Wichita on Christmas evening but will miss the Lawrence show on account of a Split Lip gig.
"Freedy really wears his emotions on his sleeves and says things that maybe you wish you had said," he adds. "I think it's a really good record. I know he worked his (expletive) off on it."
Johnston will be joined onstage at The Bottleneck this Saturday night by Wichita-based musicians Ron Smith and Steve Hatfield.
"I haven't played The Bottleneck with a band for a long time, so I'm super excited about that," Johnston says.
Let's just hope seven years don't disappear until it happens again.
More like this story on Lawrence.com