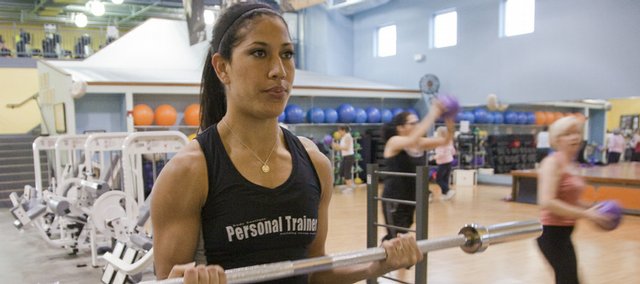 Monday, December 28, 2009
On the street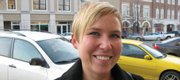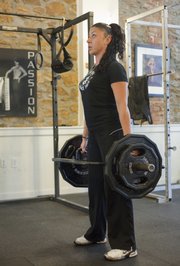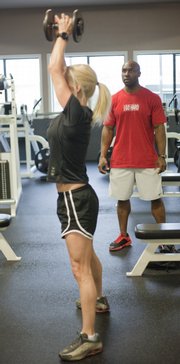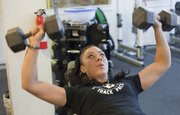 It's the first question Nathan Wellendorf gets in any small-talk situation where he happens to mention what he does for a living.
"You're a personal trainer — how often do you work out?"
His answer? Not exactly the marathon gym sessions his companion is expecting.
"In general I'm working out maybe a little bit more than a client — just because I'm here, I'm here all time and I have the time," Wellendorf says.
That goes for several other personal trainers in Lawrence who might make their living working out clients but don't live to work out.
Seriously.
Wayne Jackson, who like Wellendorf is a personal trainer at Lawrence Athletic Club, 3201 Mesa Way, says that even if he wanted to work out more, it would be impossible between seeing clients and making time for his family. Yes, he's got a life, too.
"I'm so busy training, I don't really have the time to work out like that, plus I have a 4-year-old, too, so I really don't spend that much time in the gym," Jackson says. "It doesn't give them an excuse. I'm just as busy, too, so if I can (get in a workout) they can, too."
Jessica Dudley, a trainer at Body Boutique, 2330 Yale Road, likes to stress that the trainers are human in all aspects of their fitness life, even if they can dead-lift twice as much as you.
"One misconception is that we eat totally perfect and never really have bad days where we just totally pig out and that kind of thing," Dudley says. "They usually think we stay pretty on track with our diet. We're mindful of it because it's our profession, but we're just like everybody else when it comes to that. And we also have days where we are like, 'Will you work me out today?' — motivation is hard for everyone, including us."
At North Lawrence's Next Level, 644 Locust St., the eight trainers on staff get a healthy dose of motivation because the private club holds trainer-only workouts during the lunch hour Mondays, Wednesdays and Fridays. The workouts are seen as a sweat session, educational lesson and motivational push rolled in to one, says trainer Zac Breedlove.
"The cool thing about it is each of us have different needs, different goals, we all train differently," he says. "So, everyone does their own workout a little bit different, or a lot different."
Janae Morgan says that even though she doesn't work out with the other trainers at LAC, she considers her workout to be a group one — something where club members can watch how she trains and know that she puts in the work just like they do.
"It's always good to show that I do work out and it's not all genetics and I do have to work hard and it's not that I workout once a week to stay fit," Morgan says. "I feel like it's important to have people see me working out at the gym."
And how does she and the other trainers work out? Every one that shared their workout plan mixes both weightlifting and cardiovascular exercise (running, biking, elliptical trainer). Even though most of the workouts don't go much past an hour in length, they are intense — no lollygagging around, talking to folks, just nose-to-the-treadmill hard work.
Jackson says he spends at least two days resting per week, where he'll do something light, like go on a walk with his family. And that's just what he tells his clients, too, because, after all, he, like them, is his client.
"I treat myself like a client. It's easy as a trainer to forget about yourself, just like a doctor or a nurse or a chiropractor ... once you start helping other people, you forget about yourself," Jackson says. "So, if somebody asks me if there's a certain time open because they've seen me working out, I'll just tell them, 'Yeah, I have a client' at that time and then I'm sure later on they figure out it's me.
"But it just lets them know that I'm just as important, my health is just as important as theirs."
Workout tips from the pros
Here are a few tips from some Lawrence-based fitness pros.
• Mix weights and cardio. Janae Morgan, a trainer at Lawrence Athletic Club, does about 35 minutes of cardio five or six days per week and lifts weights for 30 minutes, alternately focused on legs one day, back and biceps another and chest and triceps a third day.
• Be efficient and focused. Wasting time between exercises just adds to your total time in the gym, just get in and out, experts say. You'll work yourself harder and have more time for all the other things in your life. To get in and out, LAC trainer Nathan Wellendorf recommends mixing in cardio in between weight-lifting moves for more burn for your time.
• Rest. If you build in a day where you let yourself recover, it'll help you repair your body after tough sessions and keep you from getting injured. Each trainer suggested one to two days of active rest (taking a walk, going for a leisurely bike ride) per week.
• Don't forget what you eat. Morgan says she plans her meals for the week on Sunday. She packs them up and has them ready to go. "I think what's important is to let everybody know is that it's not only working out, it's eating the right foods," she says.
— Sarah Henning
More like this story on Lawrence.com