Thursday, December 31, 2009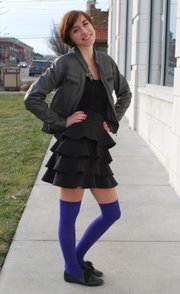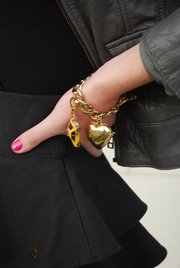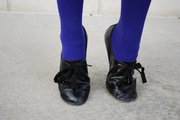 Alex Royden Swanson
Age: 18.
Sign: Aquarius.
Hometown: Lawrence.
Time in Lawrence: All my life.
Occupation: I'm a sales associate and merchandiser for Hobbs and Spectators, two locally owned businesses on Mass Street.
What were you doing when scouted? I was walking to work.
How would you describe your style? My style is girly with an edge. I wear feminine pieces-clothing with ruffles and lace-but I pair my dresses and skirts with leather jackets or tennis shoes.
What are your current favorite fashion trends? I like blending together different trends, picking and choosing the styles and patterns that I like. Right now there are no rules, no codes of proper dress or off-limit items in the realm of fashion. You can wear white after Labor Day. You can mix navy and black-there are no boundaries. Fashion is all about having fun with what you are wearing-and this I love.
What are your least favorite fashion trends?
Honestly, I just can't understand why so many people make fashion choices that purposefully replicate someone else. Why would anyone want to look like anyone else-wear a non-regulated, unenforced uniform? There are more attractive, more in-style options available-wearing Ugg boots, a North Face fleece, and the word 'Pink' on your butt is unoriginal and out of style.
What would you like to see more/less of in Lawrence? More individuals with personal senses of style would foster creativity in our community. I'd like to see more effort put into outfits, more appropriate dress in accordance with environment or occasion.

Who are your fashion influences? Peaches Geldof and Alexis Chung have great street-style. I primarily take influence from different designers that I am lucky enough to meet during trade shows at market. The clothing actually takes on a real personality after you meet their maker.
People say I look like: My dad-Mark Swanson.
Tell us a secret: I can eat an entire carton of ice cream in one sitting. I have a horrible sweet tooth!
Shoes: M.I.A., Fred Segal, Oct. 2009, $50.
Over-the-Knee Socks: American Apparel, Berkley, July 2007, $12.
Skirt: T.T., Spectator's, Lawrence, December 2008, gift.
Dress: American Apparel, ebay, May 2009, $20.
Bracelet: Juicy Couture, December 2007, gift.
Purse: street vendor, New York, December 2007, $10.
Overcoat: Forever 21, Kansas City, October 2008, $40.
More like this story on Lawrence.com