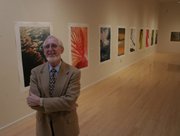 Eight years ago, the Lawrence Arts Center (LAC) moved into its new home at Ninth and New Hampshire amidst a storm of controversy. A number of citizens took issue with the building's severe, pseudo-modern design (dubbing it the "art prison"), while others questioned the extravagance of the facility and the need for its existence in a town then seemingly well-stocked with arts venues.
But for many local artists, for whom there can never be enough exhibition space, the Arts Center signified a great leap forward for the arts community. Here at last was a bona-fide arts institution--complete with state-of-the-art studios, performance spaces and metropolis-sized galleries--targeting and representing the community-at-large. Many hoped the Arts Center would finally establish Lawrence as a Midwestern cultural hub--with an attendant rise in sales of local artworks. For many, that dream has yet to be realized.
In a Nov. 21 Journal-World article, Michael Maude, chairman of the LAC's board of directors, assessed the situation with candor: "Moving into that building was a giant leap for the organization for its future, but we didn't plan well for being in that space."
After the sudden resignation in 2008 of LAC founder and director Ann Evans, the Center's board of directors began a prolonged, often chaotic search for her successor. Enter David Leamon, whose credentials were firmly established with his spectacularly successful renovation of the Topeka public library. Arts Center Director Leamon is faced with the Obama-like challenge of resurrecting an ailing institution in tough economic times, and of regaining the respect of local artists, many of whom now criticize the LAC's exhibition policies as largely unrepresentative of Lawrence's varied and vibrant arts scene.
Audio clip
The full conversation Arts Center Director David Leamon
Many of the questions we asked Leamon were submitted online by the community.
Highlights from the interview
lawrence.com: A brief history of David Leamon.
Leamon: I'd been retired for three years from the Topeka Shawnee County public library. I was the executive director for the past 16 years, where we were taking that library to a brand-new level, creating something which we referred to as a "world-class" library in Kansas.
Which you did.
We did do it. We had money. ...I have a degree in art, in English, in speech, in theater and library science, and I've always worked in areas where I've tried to combine those things into whatever operation I was directing. When I was in San Antonio building new libraries, I worked those things in because I thought they were all draws. As I approach what I'm doing now at the Lawrence Arts Center, I want to draw more people into this. I see some vacancies here, particularly from some community groups, and I want to see what we can do about that. I'm here because I love all the arts. I love all the things they stand for.
What is your impression of the Lawrence Arts Center?
When I came to the Arts Center, I looked at its history, and it's a wonderful story. It started with somebody's imagining that we could do this, and it evolved. It got exciting again with the move to this building. Eight years later when I arrived, I feel we need to renew the excitement. We need to add things, we need to examine what we're doing--what's really working, what's not working so well.
Polling within the arts community, the predominant perception is that the Arts Center is somewhat detached from the community-at-large, and certainly not representative of the younger generation of artists.
I think that's probably a truism. That's one of the things that we first talked about addressing. I'm glad to hear what people think about the Arts Center.
The thinking is that the Arts Center currently operates in an "old boy" or "old girl" network that tends to favor certain artists, either of a certain age or of a certain social standing.
I think it's critical to examine that and do something about it. ...We have to focus on the community, on these young emerging artists who are pretty darn good, and we have to go beyond the community as well. This is also a learning institution. The point is, the more the community can see good art, and learn to understand it, the more they'll appreciate it. It should represent the community and be used by local artists. But that doesn't necessarily give people free reign to do whatever they want. I think we have to establish a standard, and then present that to the community.
How is the Arts Center funded?
Now, about 70 percent is generated through income from events like the "Nutcracker," and by enrollment in classes, and special events where someone comes in and rents space--you can rent the theater, you can even have a wedding here. The other 30 percent, we go out for grants. ...We also have donations come in annually--that tapered off a bit because we lost a development officer. We now have a director of Development, Sandy Sanders. [Raising money] is Sandy's job, and she and I will work as a team--as well as incorporating the [LAC] Board into some of that, too. They haven't maintained as active a posture as they should have.
The City handles mortgage, maintenance and some operating expenses.
That's right. Anything to do with the building, and one or two utilities. (Note: After this interview, the Lawrence city manager proposed cutting the LAC annual funding from $90,000 to $61,200, along with other 32% funding cuts to two dozen other non-city agencies. The proposal has yet to be discussed by the City Commission—ed)
Do you feel the Board is working with you?
I absolutely feel that now. I feel strongly that the Board listens to me, and takes direction from me. ...Right now, we're in a change mode--we have six openings on the Board that are now being filled.
Another rumor abounding is that the Arts Center may be closing.
What? (laughs). Oh my God forbid! (more laughing).
Yea or nay?
Nay.
There is also a sense within the arts community that the LAC is in the doldrums, in the "that's the way we've always done it" rut.
To some degree, I think that's true. ...I want to hear new ideas that are fund-generating. ...We have to have some renewed excitement here--even in the appearance of the building. When the Board asked me for my first impressions I told them I walked through the front door and—lo and behold—there was no art. This place looked like an icehouse, not an art center. I didn't see any color! I like color. ...The Center's eight years old; it's starting to look tired. ...I've been telling the staff that this is a great time to do a lot of thinking and planning and to begin to implement some things that don't have high cost but have at least a return, to get people in to try something new.
A comment posted by a lawrence.com reader: "There is a gallery committee. It has not met in many months, and so its members have no idea of or say in what happens in the gallery."
That's not true.
How are artists selected for exhibit in the main galleries?
Every year we collect applications from people who want to have a show. ...There are also opportunities to join group shows. ...But, as I said earlier, there needs to be a standard, you have to be selected. There is a gallery committee and they do meet, and there's also a committee on the art auction.
The annual Art Auction is a hot topic. Apparently there were meetings about how to improve it, and then, nothing.
I know. There's a lot of unhappiness over that. ...One of the big complaints about the Art Auction that I heard before I got here is that artists are called upon endlessly to give, give, give. And they really don't get much in return. ...You give a picture, it goes on the auction block, and you get a bid of 15 or 20 dollars. It's not fair. So this year every painting will start with a 50% minimum bid [of artist's valuation]. We're not "giving" art away anymore. That sets the wrong idea--that art is cheap. ...The Art Auction is our primary fundraising event of the year, it's extremely important. It usually brings in about $80,000. It would probably make more money if I had more money in the marketing budget. We've never had, to my knowledge, an organized, fund-raising development program--and that's one of our greatest failings.
Your objectives for the first year?
Fundraising, marketing, and reorganizing how we operate. ...I think we've got to tighten things up. We've got to pull together and start acting as an organization that's unified, not as a bunch of disjointed things that just happen here. ...It's not that we have to have tons of money, but we do need a little bit more money to make this come together.
How do you think your new staff perceives you after your first 40 days?
As an old fart (laughs). Oh, I think some of them roll their eyes and think that I'm peculiar—because I generally say what I think. ... I want people to know that there are problems to any organization or institution. This is no different. On the other hand, we have something here in Lawrence that other communities would die for. ...I'm here because this is something I want to do, something I want to help with. I want to try and bring the staff together so that whatever has to be done, we all can do it.