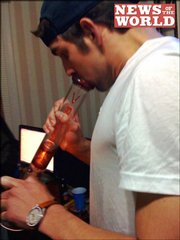 A CRY FOR PHELP
Olympic gold medalist Michael Phelps admitted this week that a photo of him taking a bong hit which surfaced in a British newspaper was indeed real. The photo was taken in November at a house party in South Carolina. It is unclear if this admission will prevent Phelps from competing in future swimming competitions.*…Confessed Phelps in a statement, "That 12,000 calorie diet? Strictly munchies. My 8 gold medals? Melted them into a weed scale. The Olympic-sized swimming pool I train in every day? Filled with old bong water. Bob Costas? Looks like a member of the Lollipop Guild when you're really high."
BLAGO BLOTTER
Rod Blagojevich was officially removed from office last week as the Illinois Senate voted to impeach him 59-0. The former Illinois Governor still faces criminal charges in a Federal corruption investigation.*…Following the impeachment, since his various pay-to-play schemes were generating so much money, Blogojevich successfully applied for a government bailout by arguing he was "too corrupt to fail."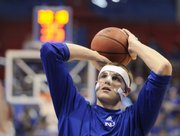 CORNHOLED
After a lengthy absence, the University of Kansas men's basketball team is back in the Top 25, at No. 21. Big 12 rivals Oklahoma moved up to No. 2 and Texas is No. 16. KU basketball player Cole Aldrich had his nose broken in last week's 68-62 win against the Nebraska Cornhuskers. Aldrich sported a protective mask in the Jayhawks' 66-61 follow up victory over Colorado.*…Aldrich was later seen at the Lied Center sporting a cape and attempting to drop a chandelier on the audience.
SIGNED, STEELED, DELIVERED
The Pittsburgh Steelers won the 43rd Super Bowl on Sunday by defeating the Arizona Cardinals 27-23 with a last-minute touchdown. The Steelers are now the only NFL team in history to win six championships In other Super Bowl news, Ben Rothle-[The transmission of this joke was interrupted by 10 seconds of some guy waving his dong around]-icking human remains out of his beard. .*…The Steelers managed their come-from-behind win by crushing the Cardinals' defensive line with Bruce Springsteen's groin.
Note: Video contains male nudity

PETER PANDEMIC: CHUNKY
The North American death toll from salmonella-tainted peanut butter reached 8 last week. The FDA linked the outbreak to a shipment of peanuts in a Georgia plant that contained a "filthy, putrid, or decomposed substance."*…The salmonella outbreak took a tragic turn when it was revealed the dancing banana from "Peanut Butter Jelly Time" died alone and in agony.
TITS UPDIKE
American writer John Updike passed away at the age of 76 last week. Updike twice won the Pulitzer Prize for his "Rabbit" series of books, wrote more than 25 novels, and published more than a dozen collections of short stories.*…Updike will best be remembered for the way everybody snickered whenever someone said "Updike."
BARACK AND AWE
President Obama continued to press for the passage of his $800 billion economic stimulus bill, despite garnering no Republican support in the House and facing Republican opposition in the Senate. Obama also condemned Wall Street executives who granted themselves $20 billion in bonuses as "shameful" and signed into law the Lilly Ledbetter Fair Pay Act, which protects women from pay discrimination. Every member of the Kansas Republican delegation in Washington voted against the Fair Pay Act.*…Kansas Representative Lynn Jenkins went a step further, offering to chain herself to Merryl Lynch CEO John Thain's renovated office so she could better make him sandwiches and babies.