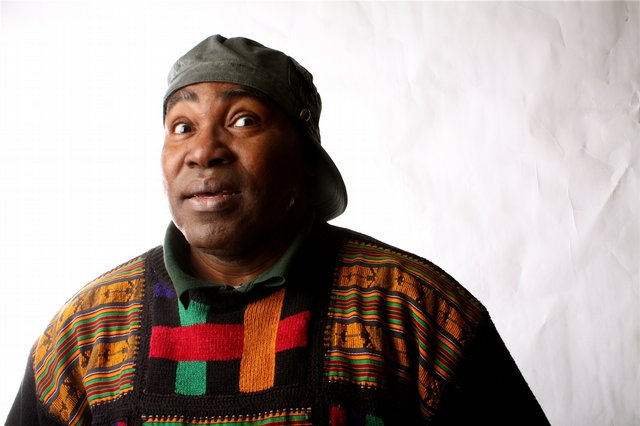 One would be hard-pressed to find a Lawrencian with a more thorough knowledge of Jamaica than Neville Brown. The singer spent his teenager years wandering around Kingston and tourist towns like Ocho Rios, performing on beaches and public streets to stay alive. A chance encounter with a U.K. record producer gave him the money he needed to come to America in the late '80s, and he took full advantage of the opportunity by learning to read and eventually graduating with a degree in social work from the University of Kansas.
Brown's recordings with the Jamaican dub producer Scientist earned him a place in reggae history, though local audiences are probably more familiar with his performances with Ras Neville and the Kingstonians (formerly known as Common Ground). He joined us to tell his tale of "flatfoot hustlin" and share stories about some of his favorite songs from past and present.
lawrence.com: How did you end up in Lawrence?
Lawrence is like my first realization of home, because I grew up on the streets in Jamaica. I found out that I could sing really well, so I just walked around and sang for people ... I left the city and drifted into the tourist areas of Ocho Rios and Negril and just started walking up and down the beach. I didn't go to high school because I couldn't pass the exam – I needed a pair of glasses.
I was singing on the beach for years, and when I turned about 20 this guy walked up to me and said, 'We are from the U.K. and we can take all the songs you sing and record them' ... So I took the money and got off in Kansas. I decided I was going to find a rock and roll band and teach them some reggae music.
Did you actually survive in Jamaica just by singing?
I grew up with my parents and they were good people, but it's not like here. When things get hard, you don't have any welfare to get on or social security to back you up. In Jamaica, they call it flat-foot hustling: if you are down and out you've got to figure out something that's going to make you survive, or else you go and die.
We were eating beans every day for three months and my father said, "Man, we can't afford to take care of you guys anymore." It dawned on me that I had to do something ... I sang Earth Wind and Fire, Bob Marley, Dennis Brown – anything that I heard on the radio ... There was a group in Kingston called Black Uhuru who helped me a lot. They would pick me up and give me money to take the bus to Ocho Rios.
Why Kansas?
I heard that there were some people from Jamaica who lived up in Kansas City (members of the Blue Riddim Band). I saw them play in Jamaica at the Reggae Sunsplash Festival and so I decided I was going to come join them. But then I ran into this girl who was going to college, so I followed her up here. After a couple of years I decided, "Why not go to school, too?"
I went up to Strong Hall and said, "How do you go to school?" When it came time to start they said, "Where is your high school diploma?" I said, "I don't have any" ... I literally could not read.
They decided, "Man, if you can get this far and you're that motivated, we're going to figure out what you need to do." They had me up at the Applied English Center for two years training in reading and grammar until they let me take this proficiency test. Then they let me take KU classes.
I used to live up in the library. It was an amazing thing to me that I could learn all about Jamaica from right here in Kansas ... I was living in Jamaica and I didn't know anything about Jamaica.
You must feel pretty lucky the way you landed on your feet.
Yeah. Those guys (from the U.K. label) gave me a good amount of money to get an education. Now today I can listen to some of those songs on the Internet from "Scientist presents Neville Brown." They've made a lot of money from those songs in Europe. The first set of songs they did was called "Mr. Music Man" and there was a very popular song after that called "Haul and Pull Up."
What's the song about?
There's a place where artists come to hang out in Kingston called Halfway Tree. They have these big dancehall parties with (artists like) King Tubby and King Jammy performing on big soundsystems. It's free to hang out, and that's where you'd see artists like Dennis Brown, Yellowman, and Welton Irie.
They came down to the ghetto to let people know that they can have fun. We didn't have a radio or anything like that, so that's how you would pick up some of the good songs. It gives you hope that if these guys can make it, you can get out of there too.