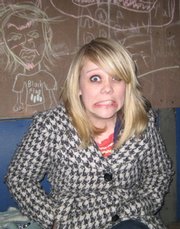 Samantha Meissner, student barista who occasionally gets to go out
 How do you save money?
"I work at a coffee shop, so whenever I work on Sundays I get first dibs at coupons in the paper. I spend most of my shift on Sundays clipping coupons and storing them for future use. I organize them as well so I'm more efficient at the grocery store. I don't need one of those indexed coupon boxes, my friend—I file them by type and expiration date in my wallet. The earliest expiration date comes first. I try not to eat out very often, but when I do I get the cheapest thing on the menu. For example, dinner tonight was Crazy Bread at Little Caesar's for $1.50. I'll only get the $5 Hot-N-Ready pizza if I'm splitting the cost. I'll also eat stale bagels at work—if you toast them, you don't even notice. Typically I don't do a lot of shopping, but if I do and the item is over $15, I won't buy it. For instance, I've had the same purse for 3 or 4 years. Even though I need a new one, I refuse to buy a new one until I find one for $10."
How do you splurge?
"I will go out more often and splurge on booze, or maybe treat myself to a really nice dinner at Zen Zero or La Parilla. High class. My ideal night is staying at home for a while, then going down to Replay and sitting outside and drinking."