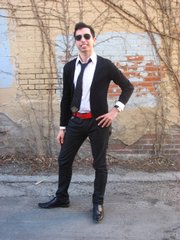 Name: Brent Garcia
Age: 23
Sign: Sagittarius
Hometown: Stockton
Time in Lawrence: 4 years
Occupation: World Traveler and student at KU.
What were you doing when scouted? Searching for vintage furniture.
Favorite places? Henry's is definitely number one. I also like studying at Signs of Life, Urban Outfitters, La Parilla, Zen Zero, and Encore.
How would you describe your style? Nerdy Chic.
Where do you get your hair cut? Z's Cosmetology. I try going to a new person every time.
Favorite trends? Cardigans, tailored looks, elegance, killer eye wear, Burberry, nice quality clothes, and equestrian boots on women.
Least favorite trends? Bad hats, running/athletic shoes when you're not working out, hoodies and t-shirts and general sloppiness, baggy jeans, KU apparel, gold chains on men, and bad male jewelry as a whole.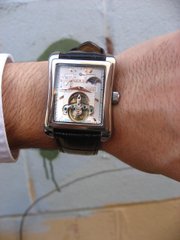 Favorite coffee shop? In terms of coffee, I do like La Prima Tazza, although I can never get any studying done there. I usually study at Signs of Life, because it's quiet and I don't know a lot of people that hang out there.
Favorite bar? I love Henry's, because there's usually a good crowd. I also like going to NEON at the Bottleneck and Pride Night at the Granada.
What would you like to see more of in Lawrence? I'd like to see more people taking advantage of opportunities in Lawrence, and really discovering what Lawrence has to offer. I'd also like to see more gay bars, better public transportation, a couple men's clothing stores, better housing opportunities downtown, and more city-sponsored music events.
What would you like to see less of in Lawrence? Less driving and more support of public transportation. I'd also like to see less rude neighbors, and less athletic Oakley sunglasses.
Who are your fashion influences? The Jonas Brothers, Kanye West, the Sartorialist blog, and stylish old men.
Tell us a secret: The grossest thing I have ever eaten is boiled chicken feet, when I was in Hong Kong.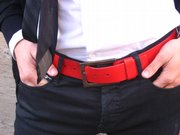 PRICE OF CLOTHING:
Boots: Kenneth Cole, purchased in London, 9 months ago for 90 pounds/
Pants: Zara, purchased in Hong Kong, last September, for $80
Belt: Purchased at a boutique in Buenos Aires, last year for $15
Shirt: H&M;, purchased in Chicago, 2 years ago for $30
Cardigan: Zara, purchased in Buenos Aires, last year for $90
Tie: Calvin Klein, purchased in London, sometime last year.
Watch: Piaget, purchased in Hong Kong, last September, price undisclosed.
More like this story on Lawrence.com