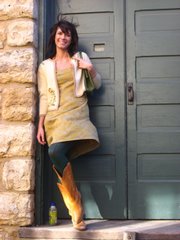 Name: Jessica Molina
Age: 24
Sign: Taurus
Hometown: Gardner
Time in Lawrence: 4 years
Occupation: Barista at Henry's, cocktail waitress at Wilde's Chateau 24, and Installation/Performance Art student at KU.
What were you doing when scouted? I was doing The Car Wash at the Sandbar.
Favorite places? Ernst & Sons, The Social Service League, AB's Crepes, Aladdin Cafe, and Wheatfields.
How would you describe your style? It always changes, but usually consists of country dresses and cowboy boots.
Where do you get your hair cut? Kevin at Static cuts it.
Favorite trends? One piece suits, leotards, unitards, clashing colors, '60s psychedelic patterns, and wearing stuff with confidence.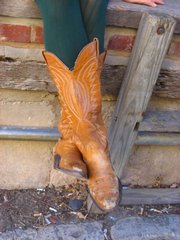 Least favorite trends? KU t-shirts and shiny, tacky handbags.
Tattoos/piercings? I have a tattoo on my wrist of a Gustav Klimt painting, which was done in Barcelona.
Favorite coffee shop? Henry's, of course. There are always interesting patrons and strange conversations ranging from discussing lizards from the underworld to psychic sleepwalking. My co-workers are amazing, the bosses are good, and just good vibes all around.
Favorite bar? Drinking a 40 on my front porch.
What would you like to see more of in Lawrence? I'd like to see a bigger art scene and more performing artists—more trapeze artists. It would be nice to have more financial support for education and the arts. I'd also like to see a roller skating rink and an arcade.
What would you like to see less of? KU fans taking my parking spot on campus.
Who are your fashion influences? I am really influenced by the 1960s and 1970s in general. I'm also inspired by traveling around. I love Aboriginal textiles, symbolic dress, costumes, outsider people in general, and of course "The Beverly Hillbillies" and "Leave it to Beaver."
What's in your purse? A pair of tights, a multi-vitamin, a few screws, a tape measure keychain, my wallet, and some loose change.
Tell us a secret: I can do mildly entertaining magic tricks.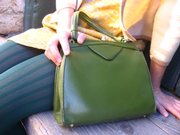 PRICE OF CLOTHING:
Boots: Lawrence Antique Mall, purchased 2 years ago for $35
Tights: My mom bought them for me awhile back
Dress: Purchased at a vintage clothing store in Romania, about a year ago for 8 euros
Cardigan: ATC, purchased in trade about 3 months ago
Purse: Wildman Vintage, purchased 1 year ago for $12
More like this story on Lawrence.com